4th Kangaroos verses Wallabies Match Announced
13th September 1909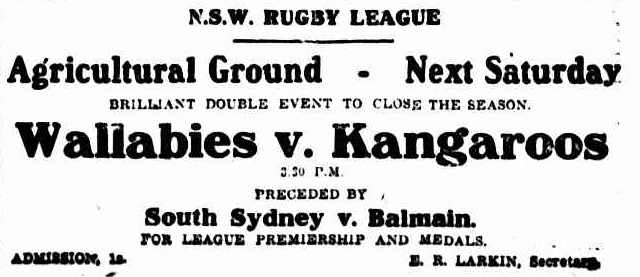 At a special meeting of the general committee of the league held last evening it was decided to wind up the season with a big programme at the Agrlcultural Ground next Saturday. The early match will be the league first grade final between South Sydney and Balmain. South Sydney have only been beaten once this season by Newcastle. Balmain have been beaten twice, by Glebe and South Sydney by a narrow margin on each occasion. South Sydney were premiers for 1008, but Balmain supporters hope to see their representatives carry off that honor this season.
The later match will be another "Wallabies" v "Kangaroos" match, to also be played on Saturday next. A very strong league team will represent the latter, but will not include players from the finals particpitants Balmain and South Sydney.
Mr. E.R.Larkin secretary of the New South Wales Rugby League, informs us that the Kangaroos "not" being satisfied with their two defeats by the Wallabies. But the probable reason is because the three matches played have not been the great financial success anticipated. It is understood the gate takings for the first two games did not reach £1,000.
Northern Union(England) Invitation To Tour
Also at the meeting, a definitive invitation has now been extended to the Northern Union(England) to send a team to Australia next season. With the material now under the command of the league the very best English team will be put on their mettle. The English authorities have been asked to cable acceptance. A substantial guarantee has been given.
---