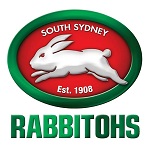 South Sydney Rabbitohs Almanac
Welcome to the Rugby League online historical scrapbook for mobile devices covering the great South Sydney RL football club, where a indepth analysis is only a few hops away.
Covering everything South Sydney together into one location, from team news, selected and match teams, all grade results, match reports, with team and as many game photos as we can. Dating back to 1908. Plus match and player statistics, club records, and a weekly cyberview from the hill.
We continue to update regularly, so enjoy.
Downloads
South Sydney Rabbitohs
1908-2017
110 Seasons Strong
21 First Grade Premierships
1078 Premiership Victories
Current Trophy Cabinet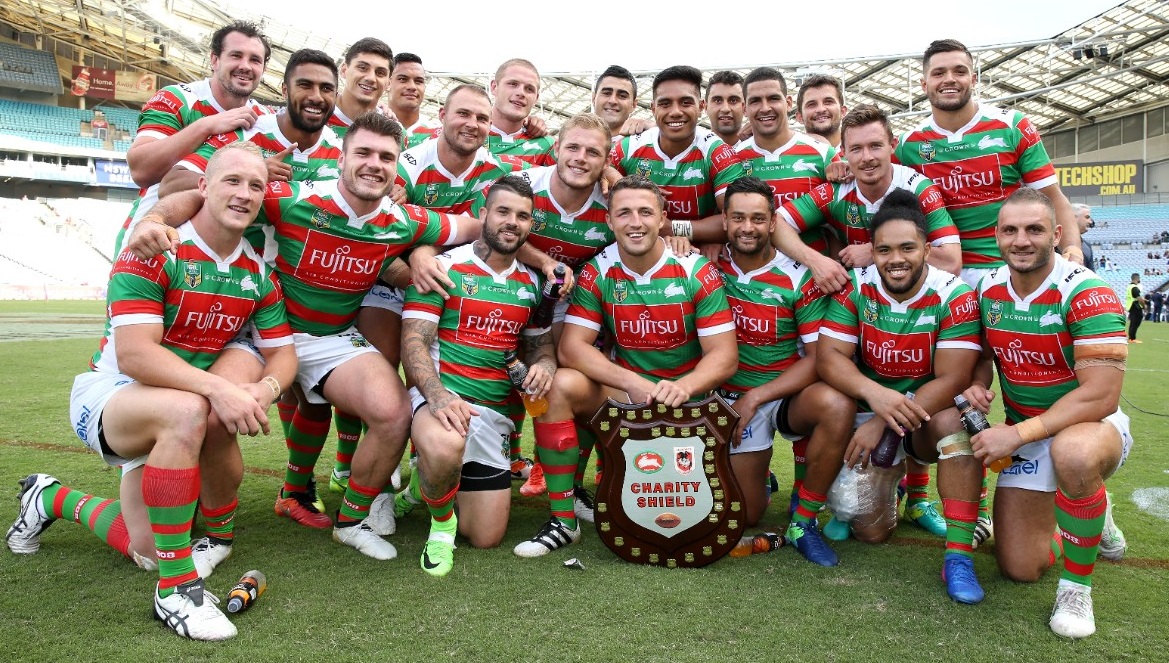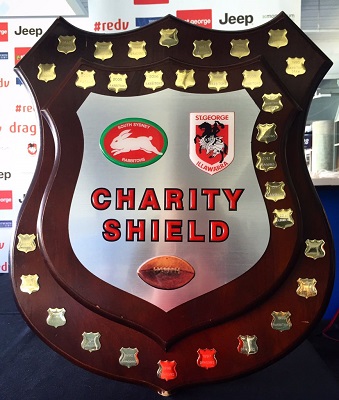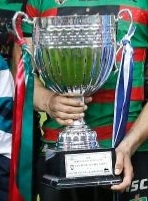 ---
Special Features
Cyber View from the Hill - Feb #1
Cyber View from the Hill - Feb #2
Cyber View from the Hill - Feb #3
Cyber View from the Hill - Feb #4
Cyber View from the Hill - Mar #1
Cyber View from the Hill - Mar #2
Cyber View from the Hill - Mar #3
Cyber View from the Hill - Mar #4
Cyber View from the Hill - Mar #5
Cyber View from the Hill - Apr #1
Cyber View from the Hill - Apr #2
Cyber View from the Hill - Apr #3
Cyber View from the Hill - Apr #4
Cyber View from the Hill - May #1
Cyber View from the Hill - May #2
Cyber View from the Hill - May #3
Cyber View from the Hill - May #4
Cyber View from the Hill - Jun #1
Cyber View from the Hill - Jun #2
Cyber View from the Hill - Jun #3
Cyber View from the Hill - Jun #4
Cyber View from the Hill - Jul #1
Cyber View from the Hill - Jul #2
Cyber View from the Hill - Jul #3
Cyber View from the Hill - Jul #4
Cyber View from the Hill - Aug #1
Weekend Teams
Weekend Live
Weekend Live Twitter
SSDRLFC BREAKING NEWS
---
Season 2017 News
NRL 2018-22 New FTA Deal
Goodwin 2016-7 Contract Extension
Murray Signs for 2016-9
Turner 2016-7 Contract Extension
Damien Cook Signs for 2016-17
Burgess Twins 2018 Contract Extensions
Sam Burgess Returns for 2016-8
NRL 2018-22 Broadcast Agreement
Crichton 2017-18 Contract Extension
Heffron Training Base Relocation Planned for 2018
Greinke signs for 2016-7
Walker 2017-18 Contract Extension
Furner and Devlin Join 2017 Coaching Team
Jennings, Burns, Fuiamono, Tracey Sign for 2017-8
Rochow Signs for 2017
RLIF 2016 5 year Residency Qualification Change
Farah Signs for 2017-18
Seibold and Wade Join 2017 Coaching Team
RLIF 2016 International Eligability Changes
Inglis 2018-20 Contract Extension
Hymel Hunt 2017-18 Contract Extension
Reynolds 2018-21 Contract Extension
NRL National Footy Facilities Fund
Gosiewski 2017 Contract Extension
Luke Kelly Signs For 2017
Cook 2018-19 Contract Extension
Taukamo, Tapai-Aveai, Doueihi Sign for 2017-19
Souths Juniors U18 and U16 Train-On Squads
Carr, Lowe, Richards NYC Coaching Appointment
Maguire Coaching 2018-19 Contract Extension
Cherrington Signs For 2017
Rabbitohs Back In Training
Musgrove 2018-20 Contract Extension
Cepmix 2017 9s Sponsorship
NRL 2018 NYC Replaced by Two State Competitions
NRL New LeagueStart U6/7 Junior Rules
Reynolds, Inglis, Turner All-Stars Selections
NSWRL Junior Transfer Policy
NSWRL Junior Club Conference Proposal
NRL Clubs 2018-21 Funding Agreement
Inglis named Indigenous All-Stars Captain
NRL Bans Mobile Phones From Dressing Rooms
NRL Judicary Reform and Fines Introduced
NRL Shoulder Charge Rule Adjustment
NRL Changes to Bunker Review Process
Talakai, Hiroti, Graham 2017-9 Contract Extensions
First Rabbitohs Womens Team
NRL Changes Team Announcement Process
2017 Rabbitohs Season Launch
Central Coast RL adopt Roosters moniker
South Sydney Member Co. 11th Annual General Meeting
NRL Bans NYC and Exotic Betting Options
Renee Gartner new onfield Announcer
NRL Dally M Medal Voting Process Changes
NRL Acquires Immortals concept
Rugby League Week magazine to end
Turner 2018-9 Contract Extension
RLIF 2018 Emerging Nations World Championship
RLIF 2021 RLWC Qualifiication Process
Rabbitohs Submit Heffron Final Funding Application
NRL NRL Introduces Slapping Sin Bin
Souths Book - Roos, Rabbits and Rugby League
Sam and Tom Burgess Samoa Test England Selections
Talakai Junior Kiwi Test Selection
Murray Junior Kangaroo Test Selection
Mociedreke Fiji Pacific Test Selection
Cook, Turner and Walker NSW Country Selections
Tasi and Whitelaw NSW Residents Selections
Doueihi and Miski Lebanon Test Selections
Coote, McCarthy and Churchill inducted into NSWRL Hall of Fame
Murray NSW U20 SOO Captain Selection
NRL Clarifies 2016 Finances
Gagai Signs for 2018-21
Britt, Arthars Sign for 2018-19
Johnston 2018-20 Contract Extension
Rochow Released
Britt Signs for remainder of 2017
Graham, Rodwell Australian Schoolboys Selections
NRL Suspends 9s Carnival and All Star Matches in 2018
Souths Book - The Great Grand Final Heist
2018 Wigan Trial announced
Season 2017

  (FG)NRL Telstra Premiership   (RG)Intrust NSW Premiership           (U20)NYC Holden Cup              (U18)SG Ball Cup   (U16)Harold Matts Cup   (U18-W)Tasha Gale Cup
                                                                                          Trial Cronulla   Ersk         Cronulla   Ersk        
9sRd1 Canberra   Eden L 12-15                                                             Trial C Coast    Ersk W 20-12 C Coast    Ersk W 24-8 
9sRd2 Syd Rstrs  Eden L  7-14                                                             Trial Balmain    Ersk W 16-10 Balmain    Ersk L  8-44
9sRd3 Nth Qld    Eden L  8-19 Trial Newtown    Hens W 30-16       Canterbury Belm        
Trial Manly      Camp L 16-22       Blacktown  Camp   Abndd       Manly      Camp   Abndd Rd01  Norths     TGMi   Abndd Norths     TGMi   Abndd Illawarra  Woll   Abndd
ChSh  St Geo-Ill StAu W 32-14                                     St Geo-Ill StAu W 46-16 Rd02  Manly      Ersk W 24-22 Manly      Ersk L  8-54 Wests-Tig  Ersk W 56-16
                                                                                          Rd03  Cronulla   Ende L 24-30 Cronulla   Ende L  6-22 Cronulla   Ende L  4-46
Rd01  Wests-Tig  StAu L 18-34       Wntwrthvll Ring W 32-24       Wests-Tig  StAu L 28-30 Rd04  Syd Rstrs  Redf L 12-24 Syd Rstrs  Redf W 28-14 Syd I Acad Redf   Pspnd
Rd02  Manly      Brok W 38-18       Blacktown  Layb W 40-20       Manly      Brok L 20-52 Rd05  West Coast Redf W 62-16 St George  Redf W 32-8  Canberra   Redf W 30-16
Rd03  Newcastle  NISC W 24-18       Newcastle  NISC W 30-6        Newcastle  NISC L 22-26 Rd06  Newcastle  Redf   Pspnd Newcastle  Redf   Pspnd Penrith    SMry L  4-42
Rd04  Syd Rstrs  StAu L  6-20       Mt Prtchrd Aubr W 12-4        Syd Rstrs  StAu W 40-8  Rd07  W Syd Acad SMry W 18-16 W Syd Acad SMry W 36-12 Canterbury Belm L  0-64
                                                                                          Rd06  Newcastle  Redf L  0-34 Newcastle  Redf L 12-20 Syd I Acad Redf L  8-16
Rd05  Nth Qld    Town L  6-20       Wests-Tig  Chat L 16-18       Nth Qld    Town L 18-42 Rd08  Wests      Kirk L 32-42 Wests      Kirk W 36-18 BYE
Rd06  Penrith    Penr W 21-20       Canterbury Belm W  8-6        Penrith    Penr L 24-28 Rd09  Penrith    Redf L 14-26 Penrith    Redf W 40-16 Parramatta Redf L 12-22
Rd07  Canterbury StAu L  9-24       Wyong      NSO  L  6-34       Canterbury StAu L 24-30                         mPSF  Canberra   Belm L 16-30 Canberra   Belm L 18-30
Rd08  Brisbane   StAu L 24-25       Warriors   NSO  L  8-24       Brisbane   StAu L 16-34
Rd09  Manly      SFS  L  8-46       Illawarra  Nowr W 23-10       Manly      SFS  L 20-38
Rd10  Wests-Tig  StAu W 28-8        Newtown    NSO  L 12-16       Wests-Tig  StAu W 18-0 
Rd11  Melbourne  Prth L  6-14       Blacktown  NSO  L  6-22       Melbourne  Redf W 44-18
Rd12  Parramatta StAu L 16-22       Warriors   MtSm L 10-18       Parramatta StAu W 28-26
Rd13  BYE                           BYE                           BYE
Rd14  Brisbane   Lang L 18-24       Wntwrthvll NSO  W 16-8        Brisbane   Lang W 28-22                                                 WRL   Cronulla   Ende L 10-24
Rd15  Gold Coast StAu W 36-20       BYE                           Gold Coast StAu W 36-20 JGSh  Cronulla   Redf W 36-18
Rd16  BYE                           Canterbury NSO  L 14-32       BYE
Rd17  Penrith    StAu W 42-14       Penrith    NSO  L 10-17       Penrith    StAu D 16-16
Rd18  Syd Rstrs  SFS  L 12-14       Wyong      Kanw W 22-6        Syd Rstrs  SFS  D 24-24
Rd19  Nth Qld    Crns L 10-23       Mt Prtchrd NSO  D 20-20       Nth Qld    Redf W 32-18
Rd20  Cronulla   Ende L 12-26       Newcastle  NSO  W 18-16       Cronulla   Ende L 14-40
Rd21  Canberra   StAu L 18-38       BYE                           Canberra   StAu W 46-16


2017 Player Statistics
2017 Player Representatives
Upcoming Matches
Rd22 v St George-Illawarra, SCG

NRL Fri Aug 4 6:00pm

U20 Fri Aug 4 3:45pm, SFS

Rd22 v Wests-Tigers, Leic

NSWP Sat Ayg 5 3:00pm

2017 Fixtures
History
Past Results all clubs
Past Seasons all years
Past Players
Past Representatives - International / Domestic

Records

Trophies

Player Awards

History of the Jersey / District