2016 - The Cyber View from the Hill
24th February 2016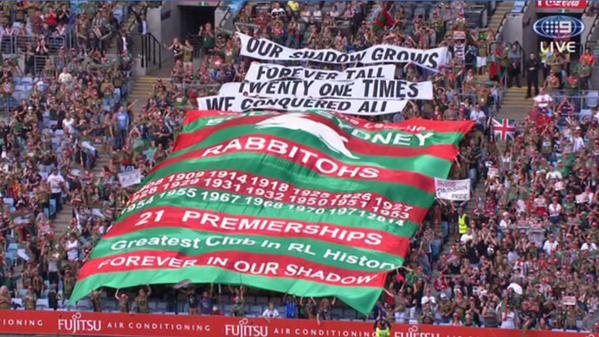 Scrapy Trial
It was a scrapy trial up on the Gold Coast at Pizzey Park. A lot of dropped ball. Most players had a 60 min hit out as they improve their fitness. But it is looking like we are going into the season opener a tad undone and losing Tom Burgess to for 2 months due to a ankle injury was not good.
Welcome Back Slammin Sam
Great to see Sam Burgess back on the paddock in the red and green, and he didn't disappoint. Scoring a try and having 18 runs and again making over 130m in his return. And to top it off he made 29 tackle and a bomb to boot. With George and now Tom missing from round 1 we are going to need him early in the season.
Hunt in front
Hymel Hunt seems to have jump on his rivals in the race for the right center position. Madges line up next week is going to be interesting.
U20s take on RM Cup team
In a different type of trial our U20s team took on the open-age Hills District team which plays in the Ron Massey Cup a 3rd division club. They won in a tight contest.
Redfern Blitz as Turner bags 4
Our U16s put on accelerator on and won in a resounding 58-0 over or sister club the North Sydney Bears with Paul Turner putting on a show scoring 4 tries.
Great Trial Webstreams
This weekend ended up being the webstream weekend. With most trials streamed when they weren't on the main TV channels. In a game that we did not expect to see Souths were able to arrange a webstream of the match live for members. There are still quality issues but a great initaitive, but you may need to upgrade your computer memory to view it in future.