2016 - The Cyber View from the Hill
25th May 2016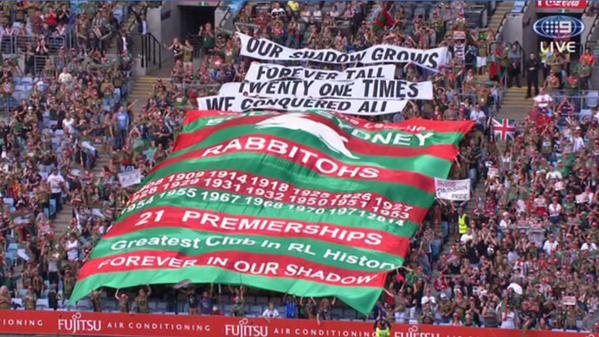 A important 2 points
It was a scrapping game with too many errors but we won a game, in a ugly fashion. But what was most important was that we secured the 2 competition points leading into the bye. There is a lot to improve upon but the last two wins and the bye put us back on track. Still a long way to go to qualify for the finals 8 more wins out of 13 games.
Reynolds 800 FG points
Adam Reynolds had a great kicking and scored 10 points to finish the game by scoring his 800th first grade point. He has scored these points at a staggering 83% better than any other first grade goalkicker who has kicked 100 plus goals.
Cook Debut and Bears big win
Damien Cook made his Bears debut and played a big part in a big win over Wentworthville. The Bears are enjoying their recent games at the new North Sydney Oval. The cricket pitch has been replaced and we no longer have a concrete park as they now plan to use drop in pitches.
Butcher NSW SOO U16 seection
Congratulations to our U16s player Egan Butcher who will make his NSW U16s debut. But what is disappointing was hot on the heals of his selection comes a poaching by a rival club for his services.
Another SOO period and another 6 weeks of sub standard football
We now enter a 8 week twlight zone for the NRL premiership. We have players missing on SOO duties, or teams having players backing up after 2 days. This sees all forms of media focus on the SOO series. The hype is so big now that it swamps public perceptiopn. It doesn't help when sub standard teams are presented on game day, fans interest dropps off and crowds drop significantly. Rather than this long drawn out period, we shedule Origin on the weekends. This lessens the impact on the NRL premiership.
Round 11 - Stat Attack
Statistically it was another poor game. Completion rates dropped to 69% from 76% this week. Errors increased to 12 from 8 last week. We gave away 6 penalities compared to 9 last week. Souths Effective 1st tackle improved to a good level at 34.2m from 41.7m last week. Our missed tackles increased to 31 missed tackles from 23 last week. Opposition offloads dropped to 9 from 13 last week.
Looking at our left side defence - Neilsen-Goodwin-Inglis-Turner (1-0-3-1) dropped to 5 from 3 missed tackles last week. On the right side Johnston-Auvaa-Reynolds-Carter (0-3-2-7) was steady at 12 missed tackles again this week.
Our go forward this week improved to 1346m. Tom Burgess made 10+m per run. With Tom Burgess, Sam Burgess, Brown, Walker and Goodwin making more that 100+m in the match. Defensively Sam Burgess was our best in the tackling raking up 42 tackles. With McInnes, Goodwin and Johnston not missing a tackle.