2016 - The Cyber View from the Hill
17th August 2016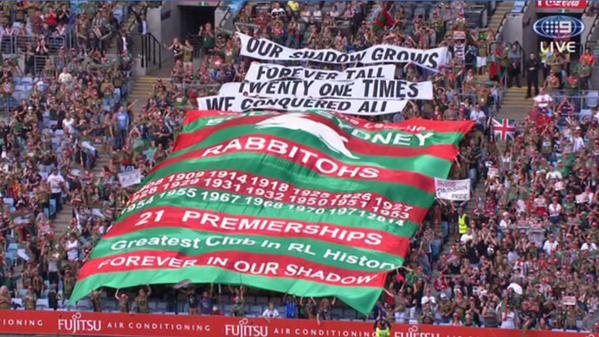 The drought breaks
Finally the drought breaks. For the second time this season we have put our best team on the paddock and finally the result came our way. On the back of a strong forward pack our backs took control in our best half of football since round 2. Pity injuries and off field player issues have impacted our season so much.
Burgess bags a double
Joe Burgess moved out of the shadow of the famous name to have a strong game and get two tries.
Bears on a tight rope
A disaster a Bear park against the Cutters has left teh Bears walking on a tight rope to make the 8 with two weeks remaining.
Hiroti and Graham return for a win
Australian schoolboys stars Mawene Hiroti and Campbell Graham returned as we saw the U20s put in a strong performance to beat the Warriors at home. Its been a difficult year but slowly our U18 boys are starting to make their mark at the next level.
Club recognises 15 year Re-instatement Members
During the week the Souths club recognised its 15 year loyal paying members with a thank you event. Well done Souths.
Round 23 - Stat Attack
Statistically the game was back to a finals contenders performance Completion rates improved to 91% from 80% this week. The best all year. Errors were improved to 3 from 7 last week. We gave away 5 penalities compared to 13 last week. Souths Effective 1st tackle improved to a average level of 32.5m from 38.6m last week. Our missed tackles improved to 21 missed tackles from 25 last week. Opposition offloads improved to 7 from 14 last week.
Looking at our left side defence -JBurgess-AGray-Walker-Sutton/Crichton (0-0-2-2) was dropped to 2 from 0 missed tackles last week. On the right side Johnston-HHunt-Reynolds/Sutton-Turner (3-1-3-3) improved to 10 from 14 missed tackles last week.
Our go forward this week dropped to 1407m. Tom Burgess, Hymel Hunt and Greg Inglis made 10+m per run. Sam Burgess, Tom Burgess, Hymel Hunt and Greg Inglis making 100+m in the match. Defensively Cook and Turner was our best in the tackling raking up 35 tackles. With Cook, Musgrove, Sam Burgess, George Burgess, Joe Burgess and Aaron Gray not missing a tackle.