2017 - The Cyber View from the Hill
22nd February 2017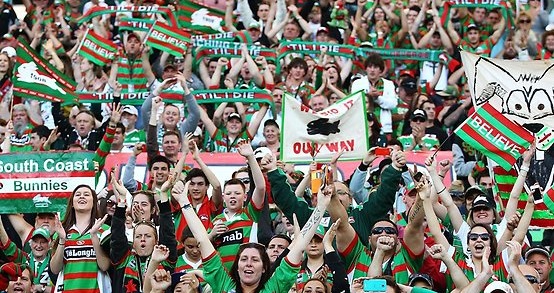 Good Charity Final Hitout
This year we went in with a strategy of only two trials. With Campbelltown being a trial for fringe first graders, the Chaity Shield became the only trial where players could gain match fitness for the start of the season. Rather than the two trial approach in past years. As a result we saw what looked like a full strength team named with minmal changes for 60 minutes. We needed a good win against a fringe top 8 team to prove we could compete with the better teams. And we did just that. Dominating the match and retaining the shield. All looks good for the season ahead.
Turner strong game
Kyle Turner had his strongest game in over two years after suffering his neck injury at the start of 2015. He is looking more more like the player who was part of 2014 campaign, whih is very good for him and Souths.
U20s looking good
Our U20s had a really good hitout on the weekened dominating the usually strong Dragons team. What was pleaseing was our new found ommitment to defence and power in the forwards. Whilemany faces were there in our poor 2016 being another year older is going to benefit our campaign this year. Added to this was the five-eighth skills of Doeuihi, he is also transforming the team.
Juniors Underway - Girls Dominate
After the abandoned round the week before, due to the heatwave, the NSWRL juniors all got underway with the ompetition starting from scratch in round 2. Our U18 boys had a great comeback to snatch victory, while our girls had a dominate performance to signal their intentions as being a force in the inaugural competition match.
U20s Lower Grade - Confusion
One year out from 2018 and allwe know is that the National Youth Cup will no longer exist in 2018 and will revert back to QRL and NSWRL based ompetitions. But no one knows how that will work or will look like. There is talk of two options one where it would revert back to being a 9 round juniors format competition. The second being a lower grade of the NSWRL Reserve Grade Premiership. In Queensland they have implemented a 9 round junior State League competition while maintaining a shortened Brisbane Colts competition. I fear for what match days as we are heading towards a one grade event rather than the traditional 3 grade event. With teams having feeder clubs not playing in district club colours at distant sub-standard locations. With part-time medical and part-time training enviornments. We already have a big issue in the development of forwards and players leaving the game because they can't play for their desired district club after doing so since ages 5 or 6. SG Ball and Percy Horne must be rolling in the graves how a once strong South Sydney lower grade structure that won 20 resreve grade premierships and 21 U21 Presidents Cups, that they helped create and maintain, is being dismantled by modern administrators. The simple correct answer was a National Reserve Grade along with the National U20s, but the strong Queensland influence seems to be guiding the evolution of the national competition structure more and more these days. Which is benefiting the reemergance of Queensland at the detrament of the rest of the nation.