2017 - The Cyber View from the Hill
1st March 2017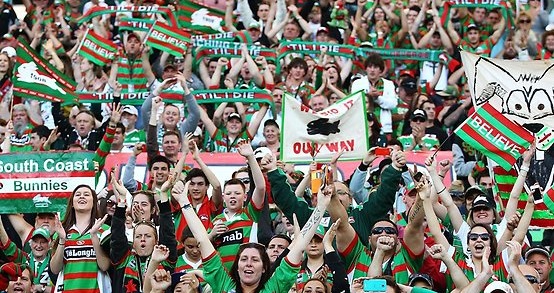 Robbie Revenge Day
In November the NRL prepared the draw and our Round 1 match was changed from traditional rivals Easts to now be against West-Tigers. After years of trying to push out NSW State of Origin hooker out of their club, Robbie finally was convinced brother ad Souths physio and Russell Crowe to jump ship and come across to Souths. So the NRL and Channel 9 set the stage for a big grudge match in round one. The revenge match match against his former club. Media and article this week have been dominated with Robbie.
Reynolds Appendicitis
What rotten luck for Adam Reynolds having to go in for a appendix operation soon after the Charity Shield match. Meaning he is out for 4 weeks. But as always this opens the door for another, and Luke Kelly will get his opportunity.
Bears Could Field a Third Grade
This year the NRL extended the squd to be 36 players. 30 of which are over 20 year old players. Add to this that the Bears also have a squad of around 20 players. The Bears or Souths now could easily field a third grade or U23's team.
Junior poor day at Cronulla
It was a much better display by our U16s but in the end still a loss. While our U18s came back to almost win they once again gave away too big a lead. And our U18 girls had a shock, going from a strong win to a big loss.
NRL Selection process changes
I am watching with interest in how the new selection process is going to work this year. Choosing 21 players rather than the normal 17 or 18 on Tuesday has highlighted a few interesting fringe player selections. It has introduced a "trimming day" 24h prior to kickoff where 2 players will be trimmed from the squad. How NRL clubs work within these new guielines will a interesting exercise in 2017.
Charity Shield - Stat Attack
Statistically a good early hit out Completion rates were 75% this week. Errors were steady from last year at 9 this week. We gave away 4 penalities same as last game last year. Souths Effective 1st tackle dropped into a poor level of 35.7m from 34.3m last year. Our missed tackles dropped to a very poor 34 missed tackles from 13 last game year. Opposition offloads were dropped to 13 from 5 last year.
Looking at our left side defence - Goodwin-Talakai/Jennings-Walker-Sutton/Rochow (1-4-5-4) was dropped to 10 from 1 missed tackles last year. On the right side Burns-HHunt-Reynolds-Turner/Crichton (0-1-1-3) was dropped to 5 from 3 missed tackles last year. Ruck defence GBurgess/TBurgess-Farah/Cook-Tyrrell/Cherrington-SBurgess/Clark (3-2-3-5) was dropped to 13 from 8 missed tackles last year.
Our go forward this week improved to 1509m. Turner, Sam Burgess, Cherrington made 10+m per run. Sam Burgess, Walker and Johnston making 100+m in the match. Defensively Sam Burgess was our best in the tackling raking up 33 tackles. With Johnston, Burns and Rochow not missing a tackle.