2017 - The Cyber View from the Hill
22nd March 2017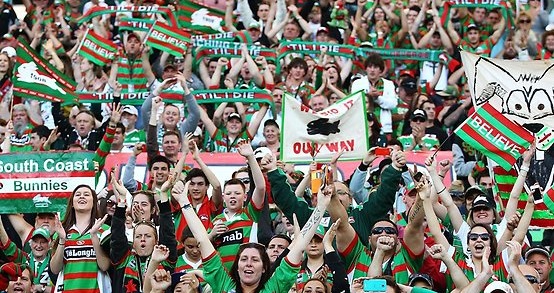 Disapline Poor
A George Burgess dropped ball triggered one of the most bizarre games of rugby league in ages. A bunch very poor boxing swings with a elbow thrown in had George in the sin bin. The Knight capatilised on it and scored 2 tries. Then Hymel Hunt collected a player with as swinging arm and Burns for a lazy shoulder charge. We at least regained composure to win. But we are now left with 3 players out suspended and very tough ask in a 5 day turn around.
Congratulations Robbie on 250 NRL games
In all of the drama, we forgot that it was Robbies 250th NRL. Congratulations on making this milestone the day before his and Souths former coach Jason Taylor was once again sacked from his coaching role, and after his dramatic exit from the Wests-Tigers.
Mociedreke bags 4
Our Fijian flyer who was playing on the wing scored 4 tries, most off we strung backline moves. He was rewarded with a call up into the 21 man squad this week.
Shae Hampson continues to scoe
While our girls team is having mixed results, Shae Hampson continues to score in every match. She is in a race with Tatum Allchin on who will be the girls first ever top try and points scorer.
Loading continues to be a blight on Judicary Process
It was a frustrating week watching loading once again pop up as a blight on the current judical process. And Souths player Hymel Hunt was the example. A minor careless high tackle worth 75 points last year was used to apply a 50% loading this year. But to have 50% loading applied to a 400 point offence resulted in a 200 extra offence. You just can't charge 200 points loading because of a 75 point offence last year, its plain wrong. It equates in a 267% loading on the original offence. We need to be smarter in applying loading. It either needs to be applied to the original offence or scrapped. It should never be applied to the new offence.
Round 3 - Stat Attack
Statistically it impacted by the 10 min sin bin period. Completion rates were dropped to horrendeous level of 63% from 85% last week. Errors were dropped to 14 from 5 last week. We gave away 7 penalities up from 3 last week. Souths Effective 1st tackle dropped into a good level of 29.9m from 21.8m last week. Our missed tackles dropped but still in a good level of 23 missed tackles from 22 last week. Opposition offloads increased to 8 from 7 last week.
Looking at our left side defence - Goodwin-Jennings-Walker-Sutton (1-2-4-3) was dropped to 10 from 8 missed tackles last week. On the right side Burns-HHunt-Reynolds-Turner (1-1-1-2) was improved to 5 from 9 missed tackles last week. Ruck defence GBurgess/Musgrove-Farah/Cook-Clark/Rochow-SBurgess/Crichton (2-2-1-2) was dropped to 7 from 4 missed tackles last week.
Our go forward this week dropped to 1344m from 1544m. Sam Burgess, Johnston and Jennings made 10+m per run. Sam Burgess, Clark, Musgrove, Johnston and Walker making 100+m in the match. Defensively Sam Burgess was our best in the tackling raking up 39 tackles. With Farah, Rochow, Musgrove and Johnston not missing a tackle.