2017 - The Cyber View from the Hill
10th May 2017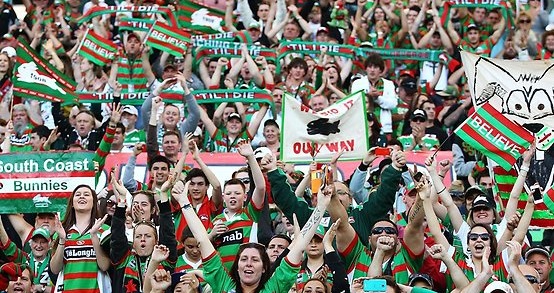 Horrid return to the SFS
The team was still mentally shaking their heads about the ANZAC match and forgot that there was a new game this week. They put in one of their worst performances in years, reminisant of the poor 1990 years at the SFS. We are struggling to move on from our 2014 success and it has been very evident when GI is not available. But this is not only in first grade but also in U20s as we crash to equal last on the NRL club championship. To turn around 2017 will take a monumental effort we still 10 more wins required from 15 matches.
Cook, Walker and Turner get first representative jersey
Congratulations to Cook, Cody Walker and Kyle Turner who all got their first senior represntative jersey when selected in the last NSW Country Origin team.
Murray and Talakai junior representatives
Congrtaulations to Cam Murray who was selecetd in the U20 Australian Junior Kanagaroo team who lines up against Siosifa Talakai who will once again play for the Junior Kiwis.
ARLC Needs to sort out Representative Matches
What a farce this week when Canterbury, Canberra and North queensland pulledtheir players out of the City v Country fixture. The lack of direction from the ARLC over NRL clubs snubbing the NSWRL is beyond a joke in this years club v representative fixture selections. The ARLC needs to let the NRL know that it only runs the elite competition and national level decisions should be managed by the national body. All players who chose to not take part in the representative fixture should have been stood down for their following match in accordance with existing rules and the three clubs fined. But the lack of action by the ARLC and the NRL is very disappointing as we regrow RL international and representative program. Wonder what will happen when clubs once again try to refuse to let their players play for state or national teams ?
Round 9 - Stat Attack
Statistically a disaster of a game. Completion rates were dropped to a very poor level of 67% from 76% last week. Our second worst all year. Errors were dropped to 15 from 10 last week. Our worst all year. We gave away 5 penalities down from 9 last week. Souths Effective 1st tackle dropped into a horrendous level of 49.5m from 31.4m last week. Our worst all year. Our missed tackles dropped to a poor level of 30 missed tackles from 22 last week. Opposition offloads dropped to 19 from 7 last week. The worst all year.
Looking at our left side defence - Goodwin-Jennings/Turner-Walker-Sutton (2-4-1-1) dropped to 8 from 7 last week. On the right side HHunt-Talakai-Reynolds-Crichton/SBurgess (1-0-3-2) was improved to 6 from 9 missed tackles last week. Ruck defence TBurgess/Musgrove-Cook/Farah-Turner/Clark-SBurgess/Murray (6-4-4-0) dropped to 14 from 4 missed tackles last week.
Our go forward this week dropped to 1036m from 1609m. Goodwin and Hymel Hunt made 10+m per run. Tom Burgess and Turner making 100+m in the match. Defensively Tom Burgess was our best in the tackling raking up 37 tackles. With Murray, Jennings and Talakai not missing a tackle.