2017 - The Cyber View from the Hill
31st May 2017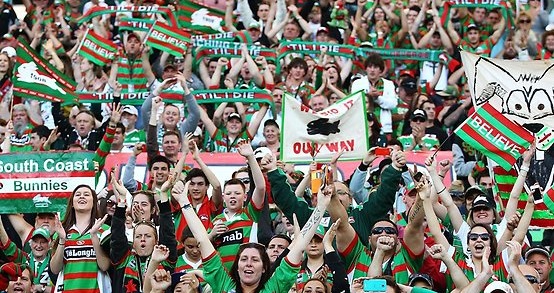 Jet Lagged 5 day Turnaround Fiasco
It was a 5 day turn around after a long flight back from Perth. Some rugby league officials need to have ahard long look at themselves for allowing this player welfare fiasco to occur. Souths were never in it from kickoff, and extremely flat in teh first half making uncharactic missed tackles. Yet in the end they had one final fling to try and make a miracle draw. 9 more wins required from 12 matches to make the finals, mathematical line is getting too close.
Super Johnny Sutton - most capped South Sydney Grade Player
John Sutton notched up his 298th Premiership grade game with 270 in First Grade, 10 in Reserve Grade and 18 in Third Grade(U20s) breaking Craig Coleman's 297 career grade premiership games. John came into grade in 2002 whe Souths re-entered the competition and has the honor of also leading Souths to premiership victory.
U20s 3 in a row
Our U20s have recorded their 3rd win on the trot to edge away from last place and looklike a competive force once again after holding out a fast finishing 4th placed Parramatta. That win will do wonders for the young team confidence.
Players threaten Strike Action
In a unbeleivable situation the players are pushing for their slice of the pie and have now threaten a player stricke during this years RLWC. Rather than threaten the NRL in a NRL competition they have threatened a RLIF run competition. This is a very disappointing turn of events and puts the management of the RLPA offside with the public and worldwide RL community. We already are potentially havinga 25% increase in the NRL Salary Cap butthe RLPA want more. They should be focusing on improving the welfare for all RL players not just NRL elite players. They need to consider things like a U23s and expnsion to improve player development and offer more player opportunities rather than focusing funds into the elite few.
Round 12 - Stat Attack
Statistically another sub-standard performance by the team where the game was lost before halftime against a out of form opposition. Completion rates dropped but were still to a poor level of 70% from 82% last week. Errors were steady at 12 again this week. We gave away 5 penalities up from 4 last week. Souths Effective 1st tackle improved into a average level of 33.1m from 37.2m last week. Our missed tackles dropped to a very poor level of 39 missed tackles from 22 last week. Our second worst all year. Opposition offloads dropped to 8 from 5 last week.
Looking at our left side defence - Johnston-TFuimaono-Sutton-Turner/Rochow (3-4-1-4) dropped to 12 from 5 last week. On the right side Gray-HHunt-Reynolds-Crichton (0-2-7-2) was dropped to 11 from 5 missed tackles last week. Ruck defence TBurgess/Musgrove-Farah/Cook-GBurgess/Cherrington-SBurgess (4-2-4-5) dropped to 15 from 5 missed tackles last week.
Our go forward this week improved to 1441m from 1429m. Crichton, Sam Burgess and Johnston made 10+m per run. Crichton, Sam Burgess, George Burgess, Johnston and Tyrell Fuimaono making 100+m in the match. Defensively Sam Burgess was our best in the tackling raking up 34 tackles. With Cook, Musgrove and Gray not missing a tackle.