2017 - The Cyber View from the Hill
14th June 2017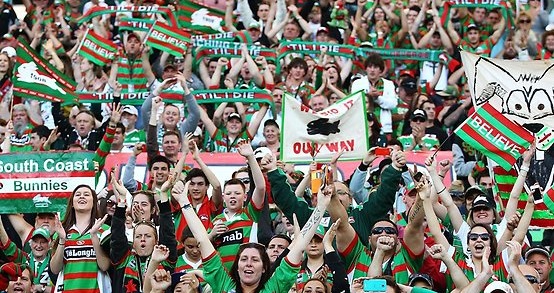 A improvement but not good enough
Souths put in a better effort but are still behind the pace of the Top8 teams in 2017. We are struggling to break defensive lines once we get into opposition 20s. In 2014 we were one of the biggest teams in the competition but in only 2 or 3 years all teams have grown their their forward packs significantly. At times George and Tom Burgess look smaller than the new breed of rugby league player. But the equation is very difficult. Its now 9 more wins required from 11 matches to make the finals. Too many must wins games left.
Suttons 300 Senior Premiership Grade match
In a wonderful achievement for John he will play his 300th senior premiership first grade, reserve grade and third grade for South Sydney. With the changes to rugby league lower grades its a record that may stand fo many years.
U20s Great Comeback
What a great comeback by our U20s team. They were down by 18 points with 20 minutes to go before they stormed home putting on 24 unanswered points. Their 4th win a row has moved them into equal 9th position, 4 points out of the 8 with a huge game against 8th place Gold Coast this weekend.
RLPA Agreement Dragging On
The CBA agreement with the RLPA is dragging on and hampering the conclusion with the NRL for the 2018 Salary Cap. The players are seeking a greater share of the new 2018-21 TV deal at the expense of other areas of the game, grassroots, future development and expansion. Rather than focusing on just improving payments for the elite few players in the game, they should be looking at things like re-introduction of U23s, expansion and improving player welfare across the thousands of RL players from U5s all the way up to the eleite level. There is a feeling that player managers are having too much say in these negotiations.
Round 14 - Stat Attack
Statistically average performance by the team where the team just couldn't capitalise on opportunities. Completion rates improved but were still to a good level of 80% from 70% last week. Errors were improved to only 10 from 12 last week. We gave away 6 penalities up from 5 last week. Souths Effective 1st tackle dropped into a poor level of 35.0m from 33.1m last week. Our missed tackles improved to a average level of 26 missed tackles from 39 last week. Opposition offloads dropped to 17 from 8 last week. 2nd worst all year.
Looking at our left side defence - Johnston-Goodwin-Sutton-TFuimaono/Turner (1-1-1-4) improved to 7 from 12 last week. On the right side Gray-HHunt-Reynolds-Crichton (0-3-4-2) was improved to 9 from 11 missed tackles last week. Ruck defence TBurgess/Musgrove-Farah/Cook-GBurgess/Rochow-SBurgess (2-2-3-2) improved to 9 from 15 missed tackles last week.
Our go forward this week dropped to 1379m from 1441m. Tom Burgess, George Burgess and Farah made 10+m per run. Sam Burgess, Tom Burgess, Walker and Goodwin making 100+m in the match. Defensively Crichton was our best in the tackling raking up 38 tackles. Only Gray not missing a tackle.