2017 - The Cyber View from the Hill
26th July 2017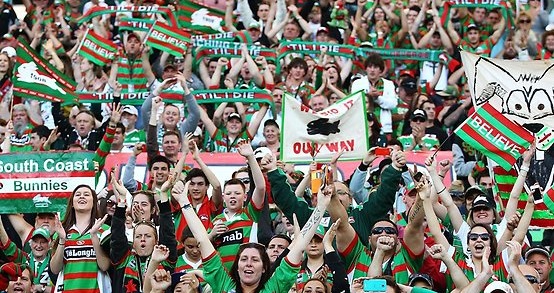 Another 5 day turnaround Loss
Another 5 day turn around on the back of a cross country trip. While we put in a much better performance against the defending premiers it was a game where a classic 12 point turnaround decided the result. Burns had the opportunity to put Souths into the lead if he was able to catch a cross field kick, but alas he knocked on and then the Sharks from the next set of six scored after attacking our ruck while our heads were down. Game over. We continue to give better teams to much field position to Top 8 teams this year. With our ruck defence being very poor all season. Our destiny is now out of our hands. We will now rely on other team results to make the Top 8. A poor for and against its helping either.
Crichton shinning light
In a difficult season Angus Crichton is a shinning light. The is in the top 3 of the NRL for tackle busts. There has already been SOO speculation for this young gun. He is quickly turning into a Sam Burgess clone, in his work ethic and add to that his speed and ability to side step is one to build a team around for the future.
Doueihi settling in at the Bears
Adam Doueihi has settled in nicely in the Bears squad. He has brought with him his strong kicking game. The young Lebanese international will be someone to watch in the RL World Cup at the end of the year.
U20s Bubble Bursts
Leading the competition leaders 14 nil after 25 minutes after winning 8 wins on the tot, everthing was looking good. But then suddenly the train went off the rails, when they let in 40 unanswered points to suffer their first defeat in over 2 months. They are still 4 points out of 8 will lots of work to do.
Bears Gold Coast Bid
As a fan who has had to endure exile, we are all hoping that the NRL accepts the Bears proposal to take over the Gold Coast licence. Playing all games on the Gold Coast and one at Bears Park But as a Souths fan if this does eventuate will mean we will need to make other arrangements for our Reserve Grade and U20s players. Under the NSWRL proposal for 2018 Reserve Grade players and U20s will play in the NSW Premiership. But normally these players would be contracted to the Bears. But if the Bears align with the Gold Coast the cream of our young players could be diverted to the Gold Coast. This is something Souths need to be very mindful of as they setup ou lower grade struture for in 2018. It would be better that we align with the strong Souths Juniors structure as we have done in the past.
Round 20 - Stat Attack
Statistically a better effort but execution is letting us down. Completion rates improved to a good level of 82% from 68% last week. Errors were dropped to 8 from 14 last week. We gave away 9 penalities from 8 last week. Souths Effective 1st tackle was again in a horrid level of 46.8m from 46.6m last week. With the first half being our worst all year. Our missed tackles improved to a average level of 29 missed tackles from 40 last week. Opposition offloads increased to 9 from 4 last week.
Looking at our left side defence - Johnston-Goodwin-Sutton-TFuimaono/Turner (0-0-1-2) improved to 3 from 7 missed tackles last week. On the right side Burns-Jennings-Reynolds-Crichton (0-3-1-0) was improved to 4 from 10 missed tackles last week. Ruck defence TBurgess/GBurgess-Farah/Cook-Tyrrell/Musgrove-SBurgess (4-10-5-2) was steady at 21 missed tackles again this week.
Our go forward this week dropped to 1278m from 1288m. 2nd worst all year. Tom Burgess and Turner made 10+m per run. SamBurgess, Tom Burgess, George Burgess and Crichton making 100+m in the match. Defensively Farah was our best in the tackling raking up 42 tackles. Crichton, Turner, Johnston, Goodwin and Burns not missing a tackle.