2017 - The Cyber View from the Hill
30th August 2017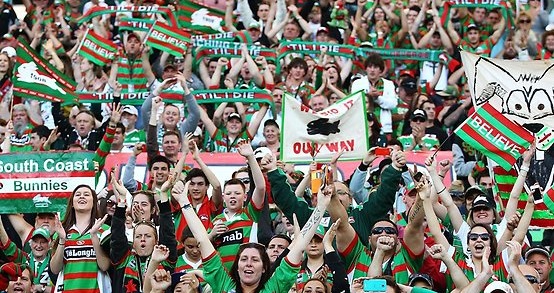 Disaster Zone !
Ka-boom, the ongoing disaster zone of Melbourne continues. It what was match of power by the minor premiers, Souths were monstered out of the game.Melbourne has taken our 2014 mould of power forward plan and added 50%. They played 4 starting props and 3 bench props of 190cm and 115kg plus to totally dominate our forwards. It was our second worst ever against total, as we had no answer for a team that was red hot.
Britt to Debut
Congratulations to Darren Britt who will make his debut this weekend.
Bears Final 8
The Bears took out the Frank Hyde Cup and secured their spot in the Top 8 of the reserve grade NSWRL Intrust NSW premiership. But injuries are mounting across the grades once again.
U20s inch into the Top 8h
Our U20s are on the crest of a remarkable climb into finals. They had only one win from the first 9 rounds languising in 2nd last. Then the run started. 11 wins and 2 draws and only losing to minor premiers Cronulla. A win or draw this weekend and they make it.
Shot Clock needs to be reduced
I have been monitoring the shot clock all season. And it is obvious it needs a tweak. We need to reduce the clock by 5 seconds for both scrums and the drop out, as teams continue to wait for 5 or 10 seconds for every scrum or drop out. This extra rest is still allowing fit big forwards to dominate the game.
Round 25 - Stat Attack
Statistically it was a disaster. Completion rates dropped to 74% from 82% last week. Errors were increased to 9 from 8 last week. We gave away 9 penalities up from 6 last week. Souths Effective 1st tackle dropped to a horrendous level of 53.3m from 27.5m last week. Our worst all season. Our missed tackles dropped to a horrendous level of 49 missed tackles from 20 last week. Opposition offloads increased to 10 from 2 last week.
Looking at our left side defence - Goodwin/Jennings-TFuimaono-Sutton/Walker-SBurgess (3-6-5-4) dropped to 18 from 8 missed tackles last week. On the right side Graham-AGray/Jennings-Reynolds/Sutton-Crichton (3-4-3-3) was dropped to 13 from 3 missed tackles last week. Ruck defence TBurgess/GBurgess-Cook/Farah-Musgrove/Turner-Murray (7-3-4-2) was dropped to 16 from 8 missed tackles last week.
Our go forward this week was dropped to 1072m from 1719m last week. Our second worst all year. Cook, George Burgess and Goodwin made 10+m per run. Jennings and Goodwin making 100+m in the match. Defensively Murray was our best in the tackling raking up 47 tackles. Only Reynolds not missing a tackle.