2019 - The Cyber View from the Hill
13th February 2019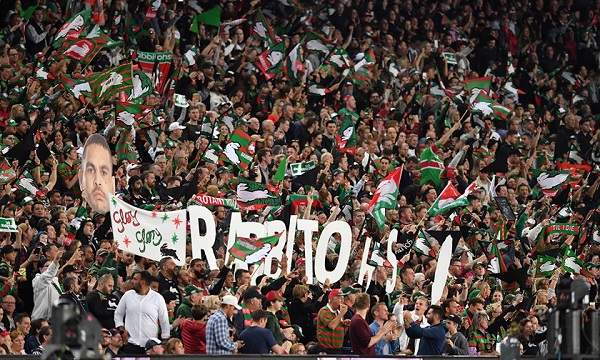 Return of Our Pathways
Heading out for first weekend of Rugby League and it was so refreshing to see all grades back in the cardinal and myrtle. As a fan it means your cheering for your team at all levels. And as a club player it means you are playing for your club once again. And it showed. Our commitment to our new setup and new coaching was very evident in the commitment at all levels.
Captain Walker
Where there is disappointment we see opportunity arise. Cody Walker has impressed since his late arrival in First Grade. He is a proud indigenous player who not only gets a chance to represent his culture but with Greg Inglis not being available now has the opportunity to captain the team. Congratulations Cody on being our latest representative captain.
Turner Honoured
Long serving clubman Kyle Turner has been honoured with the captaincy of the first team to take the field under new coach Wayne Bennett. Congratulations to Kyle, and here is hoping that his neck issues have finally have to come a end.
Aldridge Stars in Ball win
4 points down with 12 men and under the pump early in the second half, usually does end well. But new found steel in defence for our U18 boys was holding on when Logan Aldridge scored an absolute brilliant try to break the backs of Wests. His speed and then quality chip and chase were so spectacular in such a critical moment of the game. He is a player to keep an eye on.
Suaalii Locks in
Joseph Suaalii started up where he left off last year and continues to be a star in the making. He has been rewarded with a long term contract at Souths while still playing in our U16s team. We will watch his progress with great interest.
Stadia Upgrade Election shambles
What a political mess the Homebush and SFS stadia upgrades have become. Labor is trying to make it an NSW state election issue by saying they will stop the builds, while local councils are trying to stop the demolition of the SFS. We have seen design compromises, governments say they will pull funding if elected, SCG Trust a government department told you have to pay for any rebuild. It's just a mess, and it directly effects Souths as a long term tenant at Homebush as we are planning for relocation of games in 2020 during the rebuild of ANZ, and now cannot make any plans until well beyond the March state election. There is a NRL memoratum of understanding with the current state government that could become null and void if Labor wins office. Politics in Sydney continues to be a political mud throwing process rather than any real strategy to move the city forward.