2019 - The Cyber View from the Hill
20th February 2019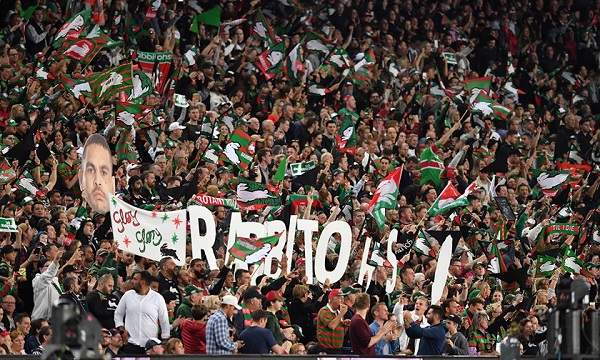 Sutton our Last Reinstatement Player
What an honour for John Sutton this weekend, as our longest serving player it is fitting that he was given a Testimonial on our spiritual home Redfern Oval. Sutton started his senior football way back in 2002 in U20s and is our last reinstatement player. John has played his entire junior and senior grade career with Souths and only ever worn the Cardinal and Myrtle in his 337 all-time senior grade games. Souths faithful will be there to honour our modern champion.
Gagai bags a double
Dane Gagai just continues to score tries at representative level. The two tries he scored for the Maori team were again class as he managed to get the ball down in difficult circumstances. There is an ongoing debate if he is a better winger than a centre and it will be interesting to see were Bennett ends up placing him in the backline when everyone returns.
Tracey call up
While a few big name players are being managed carefully during the preseason, most wanted to play this weekend. Reynolds is one player coming back slowly. But as usual it opens up an opportunity for someone. In this case it will be Connor Tracey who get first crack at Halfback for the season with the main first grade squad. He has shown a lot of promise in 2018 and if injuries occur during the season he is expected to be called up. So this is a good chance to develop combinations with the main squad.
Ilias chooses Souths
Souths are slowly rebuilding our lower grade sticks, this time by bringing in a Rugby Union convert Lachlan Ilias. He will get his first chance at 5/8 this weekend and we eagerly look forward to what he has to offer.
Palu strong game out wide
Faresa Palu continues to have strong contribution to our Matts team. He scored very good solo try in traffic and setup his outside man for a second try as our U16s team took a solid lead in the game. But it was Terrell Ka who saved the day when scored later in the game when Souths retook the lead.
Shot clock reductions
One key rule change for 2019 is the reduction in the shot clocks by 5 seconds. When the shot clocks were introduced clubs started countering acting their effect by waiting for the clock to run down to 5 seconds before they would restart play. What this did was slow down play at times, which was the opposite effect of the desired outcome. Reducing the clocks by the simple 5 seconds should combat this. I am very happy to see this time wasting practice minimised.