2019 - The Cyber View from the Hill
27th February 2019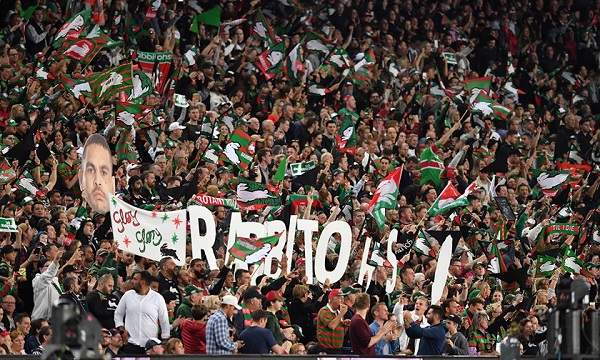 Soggy Testimononial at Redfern
It was a classic day of wet weather football at Redfern on the weekend. But it great day out with Souths holding 4 games at the same venue. We were able to see the progress of our young teams mixed with see our stars and the fringe players once again. We took on tough opposition in Penrith across all of the grades. When our main team was on we dominated them but we have some work to do with our resrve grade and U20s teams. Now off to Mudgee for teh Charity Shield.
Gagan bags a double
With a number of people out Gagan was put on the left wing at the end our backline. It resulted in immediate success as he scored both of Souths tries in the Firts Grade trial. The loss of Jennings and Kennar will mean we will use a different wing combination in 2019, so who gets their chance will be of interest.
Hawkins strong game
With Tracey pulling out and Reynolds still nursing off season shoulder surgery, Dean HAwkins was given a chance as our starting halfback. He took the chance with open arms. He guided the star studded team like a veteren, reminisant of when Reynolds debuted in a RTR trial. He won't let the team down if called up.
Taafe gets a sniff
With a few star halves out a young Blake Taafe got a late call up into First Grade for a surprise first grade cameo in the last 25 minutes when Brittain went off injured. He did well in his first ever hit out at the top level.
U16s Undefeated after 3 rounds
Our U16s team are starting to put a stamp on the compeition as the are joint leaders with Newcastle. It was a powerful forwards display lead by Moale who caused havoc and scored two tries.
Standing Down Players - Use the Bail Process
There is strong debate in the last few weeks on what the NRL should do with players who misbehave off the field. There is talk around standing down players, who may end up being innocent. This has caused a stir in the RLPA who wants to maintain the judicial system when a player is innocent until proven guilty. While we have a public outcry wanting players stood down immediately. I am of the belief that they are innocent until proven guilty. But advocate a use of the bail process to determine if there is sufficent information warrant a player being stood down and not just a extortion attempt leading into a big agme or the finals.