2019 - The Cyber View from the Hill
24th April 2019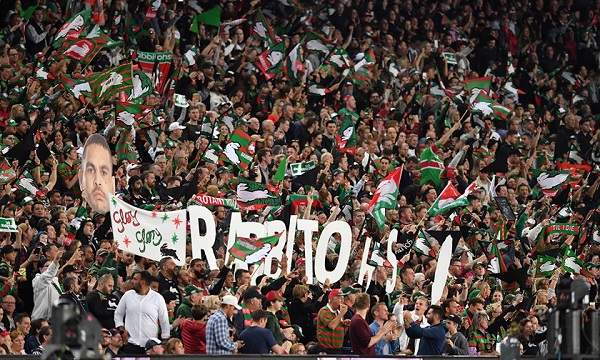 Strong Defensive Win
Good Friday and a traditional big crowd turned up once again. Souths this week decided to get their defence back in order after a number of weeks of letting in high scores. So it was pleasing in how we were able to keep Canterbury scoreless in the second half to secure another solid win. Still 9 more wins to qualify for the semis.
Murray super effort
The Murray effect is very evident on the field this year. He is providing line speed and go forward, but most importantly he is closing up the ruck with his quality defence. He never stops working and is vital to our 2019 campaign.
Hawkins returns
It has been good to see the return of one of key players in Dean Hawkins. HE had a strong RTR game, but to see his leave with a injury that has kept him out for 8 weeks. His kicking game helped guide the team around to another strong victory.
Angianga strong performances
Angianga continues to do well in U20s. He is a powerful runner with speed. He has been shifting to second row as he add power in the ruck as well as improving his defence. One to keep an eye on going forward.
One win from the final
A week off and now it's the business end of the season. Souths are one win away from the Grand Final and will need to maintain their form against Canterbury, who have been playing well also.
Souths need to establish an ANZAC Traditional Game
Over the years we really haven't had a ANZAC traditional match Over recent years playing Brisbane in Brisbane has been very successful and we should try and continue it. I would be playing it on Friday night or Thursday night if ANZAC falls on a Friday. ANZAC usually falls on a long weekend or in the school holiday window, which allows supporters to travel. I would say bring it back and lock it.
Round 6 - Stat Attack
Statistically it was a good game. Completion improved to 81% from 77% last week. Errors dropped to 8 from 7 last week. We gave away 8 penalties from 6 last week. Souths Effective 1st tackle dropped to a average level of 30.8m from 26.9m last week. Our missed tackles was at a excellent level of 15 missed tackles from 39 last week. Opposition offloads improved to 8 from 15 last week.
Looking at our left side defence - Graham-Turner-Walker-Sutton/Lowe (0-0-3-1) was steady at 4 missed tackles again this week. On the right side CAllan-Gagai-Reynolds-SBurgess/Lowe (0-2-2-2) was improved to 6 from 11 missed tackles last week. Ruck defence TBurgess/GBurgess-Cook-Tatola/Nicholls-Murray/SBurgess (2-2-1-1) was improved to 6 from 21 missed tackles last week.
Our go forward improved to 1812m from 1651m last week. George Burgess, Sutton, Tatola, Tom Burgess and Corey Allan made 10+m per run. Sam Burgess, Murray, Sutton, George Burgess, Knight, Cook, Graham, Johnston and Gagai making 100+m in the match. Defensively Cook was our best in the tackling raking up 45 tackles. Tatola, Murray, George Burgess, Knight, Turner, Corey Allan, Johnston and Graham didn't miss a tackle.