2019 - The Cyber View from the Hill
15th May 2019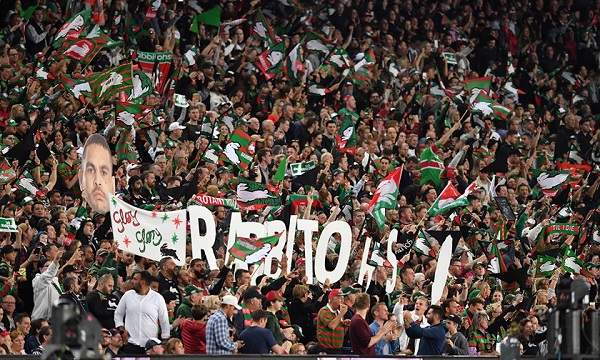 Magic Weekend Carnival
The weekend yielded our biggest game day crowd against the Cowboys. The Cowboys focused on shutting down our halves by moving up quickly to shutdown set plays. But what this did was open up gaps on the edges. Souths powered away early with a dominate opening 20 minutes to dominate the game. Souths continue to respond well to the coaching of Wayne Bennett with a 8 - 1 start to the season our best since 2013. Still 6 more wins to qualify for the semis.
Cookie Magic
With the Cowboys focusing on shutting down Walker and Reynolds, it openned up gaps for Damien Cook to exploit. As those edge men ran out of the the line Cook darted in behind them to break the defensive line and setup 3 tries and score one himself. Another magic display by Cookie.
Brittain Residents Captain
This year the NSW Cup Residents match was held earlier that in the past. We had 5 representatives in Tracey, Britt, Koloamatangi, Amone and captain Brittain. It was a worthy representation after a strong start to the season.
Kane Allan hattrick
While Corey Allan is cementing his place in first grade another Allan is making waves in the U20s. KAne Allan continues to use his speed and ability to backup to score tries. This week he was able to put on 3 tries taking his season tally to 9 tries.
Girls Snatch victory
It was a see sawing tight game that had a flurry of points in the final 10 minutes as Souths got back in front with 8 to go then to lose the lead 3 minutes later before Moa'ale powered over under the posts to score the match winner with 2 minutes to go. One more week before the womens Australian Championships kick off.
Magic Weekend Mixed Reactions
There were a lot of positives out of the MAgic Weekend, a 134k aggregate was one of the better weekend aggregates or if you follow the nRL logic 276k attended the 8 games. The pitch copped a battering but held up ok when the weather stayed good for the bulk of the weekend. The carnival atmosphere in Caxton St was a big boost the Brisbane economy as the weekend serviced the region around Southern Queensland and the NSW Northern Rivers with a feast of football. The clubs who took home games to the ground each picked up $270k from the Qld government.
But without government money is the weekend sustainable. The biggest crowd for the weekend was 41k and with many buying multi-day passes many people were counted multiple times across the weekend. 4 day passes 8 times, 3 day passes 7 times and 2 day pass 5 times. So the actual number of people attending may have only been around 50-60k. Then we only had 25% of ticket sales from interstate travelers. We could say 20k people travelled. The worst non-Qld crowd figures in 2019 for a regular round was 102k. So that means around 80k regular season ticket holders and fans did not attend matches. While the magic round is locked in for 3 seasons while the Sydney stadiums are being refurbished, if the Qld government is taken away the event may not prove sustainable. In the past when similar events have occurred they only last one or two seasons when the novelty value wore off.
Round 9 - Stat Attack
Statistically it was a good game early and then faded Completion improved to 82% from 81% last week. Errors improved to 8 from 10 last week. We gave away 9 penalties from 3 last week. Souths Effective 1st tackle dropped to a poor level of 35.5m from 25.2m last week. Our missed tackles was at a average level of 25 missed tackles from 36 last week. Opposition offloads dropped to 10 from 8 last week.
Looking at our left side defence - Graham-Turner/Lowe-Walker-Sutton/Nicholls (0-3-2-2) was improved to 7 from 11 missed tackles last week. On the right side CAllan-Gagai-Reynolds-SBurgess (0-2-3-2) was improved to 7 from 13 missed tackles last week. Ruck defence TBurgess/GBurgess-Cook-Tatola/Knight-Murray/Lowe (6-4-0-1) was dropped to 11 from 9 missed tackles last week.
Our go forward dropped to 1603m from 1811m last week. Tom Burgess, Sam Burgess, Murray, Sutton, George Burgess and Turner made 10+m per run. Tom Burgess, Sam Burgess, Tatola, Murray, Sutton, Gagai, Johnston and Graham making 100+m in the match. Defensively Cook was our best in the tackling raking up 51 tackles. Tatola, Knight, Nicholls, Graham, Corey Allan and Johnston didn't miss a tackle.