2019 - The Cyber View from the Hill
22nd May 2019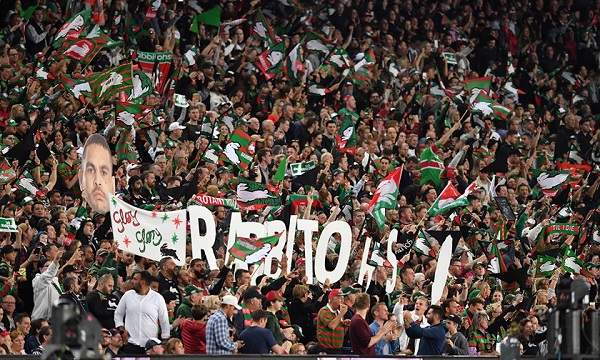 Outright Competition Leaders
It was a tough game down in the capital against a likely Top 4 opponent. The game was full of niggle as the first half descended in to the highest ever penalty count for a half. But we held on with another strong defensive display. After a number of forced changes the depth of the team is now being stretched out wide with Lowe shifting the centres. But after 10 rounds we are undefeated in regulation time ie 80 minutes of football, our best since 1951, and now lead the competition outright, and are still flying under the radar. Still 5 more wins to qualify for the semis.
Turner and AJ Unlucky
Talk about rotten luck. Just as AJ and TUrner were starting to cemet their spots in our line up both go down with injuries. Alex Johnston hurt his knee which required some clean up surgery and will be out for a few weeks and Kyle Turner has broken his toe.
Tautaiolefua gets a chance
James T. has been doing really well at the back in U20s after getting his chance at the start of the year. He is a power running fullback that has been a find in our team. Last week he got his opportunity to step up, and mix it at the next level.
Mamouzelous Greek Odyessy
Mamouzelous is a name we will hear more from as the years go on. Over the weekend he headed on his odysessy back to Europe, to represent his heritage country in their RLWC Qualifier and stared in the game scoring 4 tries. He has worked his way onto the bench in U20s and is another one in our recent production line of hookers.
McGrady returns
It was great to see the return of Sharon McGrady at the back of the girls team. Slowly, last years team is coming back together. But with Souths down the ladder there is a tough road ahead.
Retirement should not be a penalty
The NRL continues to gets itself into a muddle over basic issues. This time retirement. Clubs should not be further penalised when a player retires from the game. The NRL has stopped the issue of backend contracts, where clubs benefit from retiring a player. If a player wants the remainder of playing contract paid out then its a clear cut case, that it is paid by insurance or the clubs and would remain with the players salary cap until the end of his contract, if not covered by insurance. But when a player walks away from the money, like when the leave to another sport or to get a job, it shouldn't be included in a clubs players salary cap. The NRL should encourage rather than discourage players to remain in the game as coaches, or support staff, be it in the juniors or at NRL level or out in the bush. We have a new NRL football operations salary cap to address these issues at NRL level. But jobs beyond this, in marketing or charity groups should never be included anywhere. Its a restraint of trade. We have the ludicurous situation that GI could go over and work for the Storm without penalty to the Storm, but to do it a Souths and Souths are penalised. Not having that champion player available is already a penalty enough.
Round 10 - Stat Attack
Statistically it was an average game. Completion improved to 84% from 82% last week. Our best all season. Errors improved to 7 from 8 last week. We gave away 8 penalties from 9 last week. Souths Effective 1st tackle improved to a average level of 34.2m from 35.5m last week. Our missed tackles was at a poor level of 31 missed tackles from 25 last week. Opposition offloads improved to 4 from 10 last week.
Looking at our left side defence - Graham-Lowe-Walker-Sutton/Britt (2-3-3-1) was dropped to 9 from 7 missed tackles last week. On the right side Hiroti-Gagai-Reynolds-SBurgess (4-1-3-5) was dropped to 13 from 7 missed tackles last week. Ruck defence TBurgess/GBurgess-Cook-Tatola/Knight-Murray/Nicholls (3-0-2-2) was improved to 7 from 11 missed tackles last week.
Our go forward dropped to 1461m from 1603m last week. Sutton, Knight and Britt made 10+m per run. Murray, Sutton, Gagai, Lowe and Graham making 100+m in the match. Defensively Murray was our best in the tackling raking up 42 tackles. Cook, George Burgess and Britt didn't miss a tackle.