2019 - The Cyber View from the Hill
29th May 2019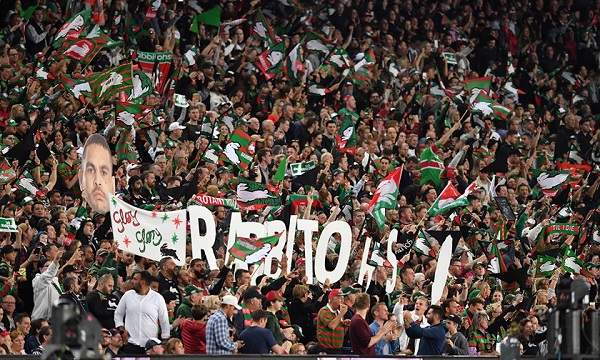 Now for Origin Period
Souths were on fire early as they put the Tigers to the sword. But momentum shifts in games continue in 2019. A dropped ball and suddenly you put on the back foot, with it being so easy to give away defensive penlties that teams can claw their way back into games. Luckly for Souths they recomposed themselves at halftime and pulled away again. This season contonues to be our best start to a season for 30 years. But now enter the representative period and with injuries mounting up, this week has been Wayne Bennett's tougest team selection in his short career at Souths. Luckily we have three players returning from injury this week. Still 4 more wins to qualify for the semis.
The Jet has landed
Welcome home James Roberts. After months of speculation, Jimmy the Jet has landed. James was a star in our juniors and lower grades, jumping from U16s in NYC back in 2010 and scoring one of the greatest junior tries in our NYC preliminary final verses Canberra when he ran 110m to score. As a SOO centre he is a welcome addition to our team after the early retirement of GI.
Brittain and Tracey ready to debut
With Cook and Murray away on origin duties, four players were called up into the team this week. Billy Brittain a Farah style hooker and our Reserve Grade captain for the past two seasons will get his chance, along with Connor Tracey who finally gets a chance for his first grade debut after a horror run on lower grade injuries. Time for these two to take their chnce.
U18 boys step up
Just like first grade and number of U18 boys are also stepping up into U20s. This week we see Bijorac and Taumoepenu join other U18 boys Zampech, Mamouzelous and Stowers in our U20s squad this week.
Time for SOO I standalone rep weekend
We are 11 weeks into the season and the NRL this week will have over 78 players missing from injury as well as the 34 origin players missing. This is not only impacting Souths but other clubs as well. We have arrived at a point where we need to seriously consider also having SOO I on a standalone representative weekend, just like SOO II. This eliminate the need for the second bye and allow focus to remain on SOO without impacting club football. We can easilyprovide content by playing a round of the Pacific Cup, along with the Womens Australian Championships. Plus if we could also include a Aussie Challenge Cup where during SOO I we play quarter finals, and during SOO II the semi-finals being played on Thursday and Friday. Where two preliminary rounds can be played during the pre-season at country venues.
Round 11 - Stat Attack
Statistically it was a good game. Completion still very good at 80% from 84% last week. Errors dropped to 11 from 7 last week. We gave away 4 penalties from 8 last week. Souths Effective 1st tackle improved to a good level of 28.2m from 34.2m last week. Our missed tackles was at a poor level of 30 missed tackles from 31 last week. Opposition offloads dropped to 9 from 4 last week.
Looking at our left side defence - Graham-Lowe-Walker-Sutton/Murray/Britt (0-2-2-3) was improved to 7 from 9 missed tackles last week. On the right side Hiroti-Gagai-Reynolds/Sutton-SBurgess (0-1-2-6) was improved to 9 from 13 missed tackles last week. Ruck defence TBurgess/GBurgess-Cook-Tatola/Knight-Murray/Nicholls (5-1-3-4) was dropped to 13 from 7 missed tackles last week.
Our go forward improved to 1849m from 1461m last week. Tom Burgess, Tatola, Sam Burgess, George Burgess, Nicholls and Lowe made 10+m per run. Sam Burgess, Tom Burgess, Murray, George Burgess, Tatola, Gagai, Lowe, Graham and Corey Allan making 100+m in the match. Defensively Cook was our best in the tackling raking up 48 tackles. Hiroti and Graham didn't miss a tackle.