2019 - The Cyber View from the Hill
3rd July 2019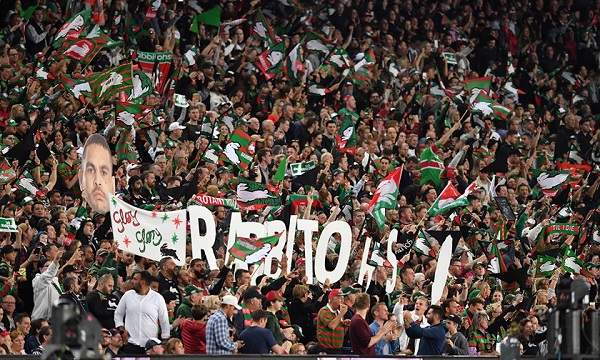 4th loss in a row
Origin period continues to hurt us in 2019. Its now 4 losses in a row with one more game still to be effected. Somehow we are still sitting in second spot but with the rest of the Top 8 teams on on heels. We were able to lead at the 75 minute mark but couldn't close out the game allowing two tries at the back end of both halves. Our Origin reps are trying but tired and the loss of the Burgess boys through injury has impacted us significantly. It was another great defensive effort but one missed tackle and game was over. Still 4 more wins to qualify for the semis.
George Burgess lets the team down
You have to wonder if George was ready to play on the weekend. He had missed the week before and was suffering badly from a re-occurance of his hip injury. But his regular season ending suspension was very disappointing as a fan. He let his team mates, the club and us fans down.
Welcome Su'A
Another pre-Jun 30 signing has seen Souths land Samoan international Jaydn Su'A. He gets his chance this weekend to start his career in the famous cardinal and myrtle. He is another Bennett special as the club continues its transition.
Ilias scores a double
Ilias continues to impress in the halves. This week he scored 2 tries in a tough game in U20s at halfback. Watch this space.
Baird returns
Another one of our squad returned this week with Nikki Baird returning on the wing. For good measure she scored a try as well.
Lebanese RL Mess
One of the success stories in the last RLWC was Lebanon who did very well to make the quarter finals and auto-qualify for the 2021RLWC. But on the rep weekend we have seen a lot this good work go backwards in their poor showing against Fiji. Added to this has been the suspension of the local competition due to too many forfiets occuring. Lebanon rely heavily on their Aussie hertiage players to be competitive at international level. So when they raised concerns over this, there was a mass banning of players by the recently appointed local federation over how they raised their concerns. The big question now is how viable are Lebanon without their Aussie stars on the international stage starting with the World 9s in October.
Round 15 - Stat Attack
Statistically it was a average game. Completion improved to 72% from 63% last week. Errors improved to 13 from 16 last week. We gave away 7 penalties again this week. Souths Effective 1st tackle improved to a average level of 34.8m from 39.5m last week. Our missed tackles improved to a very good level of 18 missed tackles again this week. Opposition offloads improved to 6 from 12 last week.
Looking at our left side defence - Graham-Burns-Walker-Sutton (0-1-0-2) improved to 3 from 7 missed tackles last week. On the right side Gagai-Roberts-Reynolds-Lowe/Turner (0-1-5-3) was dropped to 9 from 5 missed tackles last week. Ruck defence GBurgess/Tatola/Turner-Cook-Knight/Nicholls-Murray/Britt (1-0-1-2) improved to 4 from 6 missed tackles last week.
Our go forward improved to 1477m from 1335m last week. Lowe, Graham and Burns made 10+m per run. Sutton, Lowe, Britt, Graham, Burns and Walker making 100+m in the match. Defensively Cook was our best in the tackling raking up 56 tackles. Cook, Knight, Murray, Tatola, Walker, Graham, Gagai and Corey Allan didn't miss a tackle.