2019 - The Cyber View from the Hill
14th August 2019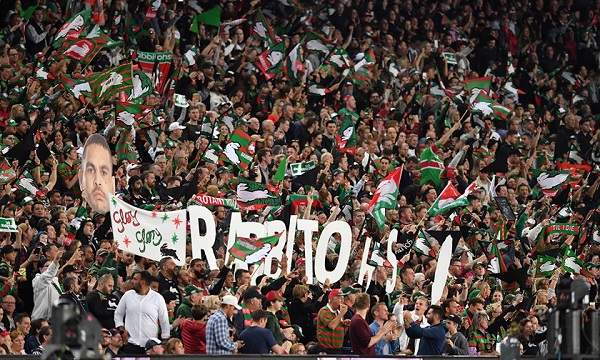 Poor Start
A poor start on th back of a dropped ball and then a dubious penalty put us immediately on the back foot. The Storm did what they do best and clinically put 12 point us before we started playing. After a late team reschuffle our forwards were being completely out muscled. But to the teams creadit they fought back and evened the ledger and were well into the game with 5 minutes to go. We still need to improve our defence and stop the offloads against Top 8 teams. The weekends results have allowed us to qualify for the semis. But we are now in a fight to retain our Top 4 position.
Graham bags a treble
Souths finally started getting their left side attack working again as it caused Melbourne real issues out wide. Graham had a form drop a month agao but has since been work hard at his game and continues to run the ball back hard bending the line. His three tries takes his tally to 12.
3 point gap as Amone stars
The game went backwards and forwards as the Warriors never gave up even when Souths jumped away to a 12 point lead, they hit back with 10 points. But a bookend of tries by Amone helped seal the game and has given Souths a 3 point lead on the field, as we secured a Top 8 and Top 4 spot.
U20 rattle up a cricket score
The game equalled our greatest ever winning margin in 112 years of 3rd grade and would have been a outright record if the final try in the corner was allowed. Melbourne are using Victorian RL funds to run their U20s outfit in recent years, but Souths were a class above them, with our second rowers Angianga and French bagging 5 trues between them. In a tight competition table, they are two points off the lead but also two away from 5th and have secured their Top 8 finish.
Sin Bins are out of control
The last few weeks have seen players sin binned for late tackles on the men passing the ball. But when is a tackle late? It now seems if a player has turned his back on the tacklers you can no longer make a tackle. Because if a defender is trying to pit presure on the man t=with the ball and he throws a dummy and doesn't pass it, we will be seeing great tackles. But being tackled a split second after passing the ball is not late. Coaches are using it as a tactic to get a opposition player sin binned. Time to bring back the Jack Gibson wall.
Round 21 - Stat Attack
Statistically it was a average game. Completion improved to 87% from 68% last week. Errors improved to 6 from 14 last week. We gave away 7 penalties from 5 last week. Souths Effective 1st tackle improved to a average level of 32.8m from 40.8m last week. Our missed tackles dropped but still in a poor level of 30 from 18 missed tackles last week. Opposition offloads dropped to 11 from 10 last week.
Looking at our left side defence - Graham-Turner/Doueihi-Walker-Lowe/Sutton (1-1-2-1) dropped to 5 from 4 missed tackles last week. On the right side Gagai-Roberts-Reynolds-Britt/Lowe (3-1-5-3) was dropped to 12 from 4 missed tackles last week. Ruck defence Tatola/TBurgess-Cook-Knight/Nicholls-Murray/Britt (2-2-3-3) was steady at 10 missed tackles again this week.
Our go forward improved to 1599m from 1271m last week. Tom Burgess, Doueihi and Roberts made 10+m per run. Britt, Murray, Tom Burgess, Sutton, Graham, Doueihi, Roberts and Walker making 100+m in the match. Defensively Cook was our best in the tackling raking up 46 tackles. Sutton, Nicholls, Turner and Corey Allan didn't miss a tackle.