2019 - The Cyber View from the Hill
28th August 2019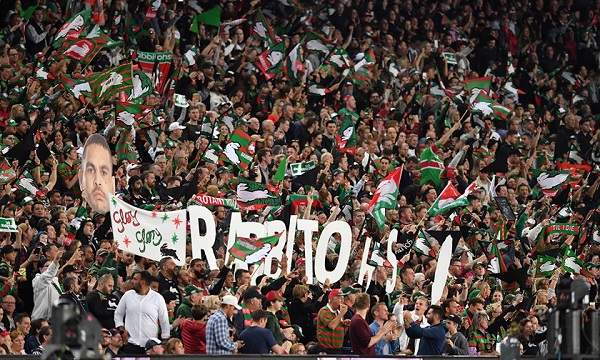 Bennett Returns to Brisbane and Top 8 secured
It was great way to bounce back, as Souths held off a fast finishing Broncos. They had jumped to a 14 point lead. The game highlighted a return to form for our key spine players Cook, Reynolds and Walker. The game was played under a lot of emotion, that now needs to be focused towards our final finals campaign. Even Bennett got into the act after the match in the dressing sheds. But we won't have the luxury of winning with 12 men for 20 minutes against a Top 6 team. Top 8 is now secured, but we are in a battle for a Top 4 finish.
Allan strong return
Corey Allan proved once again he is a very strong right winger. The way he handled our nemesis Oates in defence was great, no letting him through which is just waht we need heading into the finals.
Hiroti centre return
Hiroti switched to right centre again for this game and played one of his best games of the year. He was more involved and his speed created two great tries and a third long linebreak. He had played a lot of centre in the juniors and maybe a return might just what he needs to go to the next level. Reserve Grade need to final win on the weekend to secure minor premiership.
Zaurini Mr Versitility
While Marc Zurini continues to struggle to settle on a starting sport, he is proving to be a vital cog in our team. Early in the year he played in the halves, then he moved to hooker and now he popped up at fullback, and then back to hooker late in the game. He has turned into a key utility as we head into the finals. Final round this weekend where we can finish 3rd through to 9th, so it will be a vital game.
Outwide defence creeping up
One of the concerns since the end of the crackdown has been the standing offside out wide in defence. It was a tactic that Madge highlighted that teams are doing to force playmakers back on the inside. The crackdown last year created a more open style of football, but since the referees have put the whistle away teams have employed this tactic once again. On the weekend we have seen a Top 4 game where teams are pushing the boundary of the rules heavily knowing that referees are under instructions to not blow penalties. This looks like how the game is going to be played during the finals.
Round 23 - Stat Attack
Statistically it was a poor game. Completion dropped to 68% from 72% last week. Errors dropped to 13 from 12 last week. We gave away 4 penalties from 7 last week. Souths Effective 1st tackle dropped to a poor level of 37.4m from 36.4m last week. Our missed tackles improved but still to a disasterous level of 47 from 26 missed tackles last week. Our worst all season with 2 men in the sin bin. Opposition offloads improved to 10 from 11 last week.
Looking at our left side defence - Graham-Gagai-Walker-Sutton (2-2-4-1) dropped to 9 from 7 missed tackles last week. On the right side CAllan-Roberts-Reynolds-Su'A/Sironen (2-4-8-5) was dropped to 19 from 7 missed tackles last week. Ruck defence Tatola/Nicholls-Cook-Knight/Amone-Murray/Britt (4-4-2-7) was dropped to 17 from 11 missed tackles last week.
Our go forward was steady at 1527m from 1575m last week. Cook, Knight, Sutton, Nicholls, Amone and Roberts made 10+m per run. Sutton, Knight, Cook, Nicholls, Roberts and Doueihi making 100+m in the match. Defensively Cook was our best in the tackling raking up 50 tackles. Only Amone didn't miss a tackle.