2019 - The Cyber View from the Hill
25th September 2019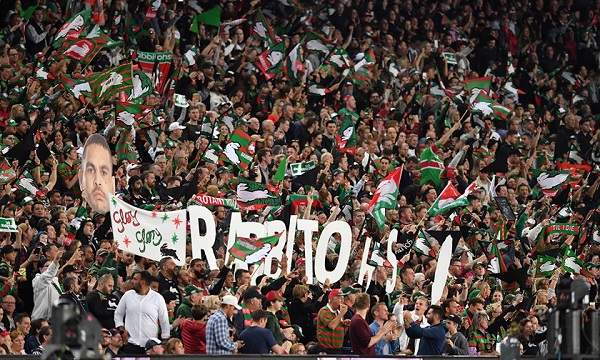 Live to fight another day
It was a game where sin binning had a big impact on the game. Firstly Souths lost Walker in contreversial circumstances after former Souths player Gosewiski head slammed Doueihi. Then a clear penalty try not awarded resulted in the first Manly sin-bin, which was then followed by a later Manly sin-bin during a Souths attacking raid. Souths capitalised on this to close out the game and book a spot in the preliminary final against Canberra in the nations capital.
Reynolds 5 times 200 Points in a season
Adam Reynolds continues as a prolific point scorer. This week he notched up 200 points for the season. He has done this now for a Souths record 5 occassions, and has also done the same in U20s.
Reserves Bow Out
Its been a great return of our reserve grade team after 12 years finishing just one game away from the big dance. Its been a credit to all involved for their success. The top try scorer for the season was Mawene Hiroti with 18 tries. Hiroti also topped the top point scorer list with 208 pointsin the season, the first Souths person to ever do so in reserve/second grade.
U20s Grand Finalists
Its been 9 years but our U20s have won their way back into a grand final. Its been a great result for this team who have worked so hard all year and held on with a great defensive effort when Penrith were pushing back into the game. Now off to our first NSWRL Grand Final day experiance.
Souths Top 4 finish in 3 grades
With our first grade win and moving into the Top 4 has meant we have all 3 grades in a Top 4 finish. It has been a credit to all involved at the South Sydney club who have rebuilt our two lower grade teams and the players who have taken us to be a premiership force once again. We have ended up being the only club to have all 3 grades in the final 4. It all looks good for future years.
Semi-Final - Stat Attack
Statistically it was a average game. Completion improved to 74% from 66% last week. Errors improved to 10 from 11 last week. We gave away 4 penalties again this week week. Souths Effective 1st tackle improved to a average level of 31.3m from 40.7m last week. Our missed tackles dropped to a very poor level of 36 from 30 missed tackles last week. Opposition offloads dropped to 10 from 9 last week.
Looking at our left side defence - Johnston/Graham-Gagai/Murray-Walker-Sutton (1-6-2-4) dropped to 13 from 3 missed tackles last week. On the right side Graham/Roberts-Roberts/Lowe-Reynolds-SBurgess (0-1-5-3) was improved to 9 from 12 missed tackles last week. Ruck defence TBurgess/Nicholls-Cook-Knight/Tatola-Murray/GBurgess (1-3-6-1) was improved to 11 from 14 missed tackles last week.
Our go forward was improved to 1616m from 1402m last week. Tom Burgess, Knight, George Burgess, Nicholls, Doueihi and Johnston made 10+m per run. Knight, Murray, Tom Burgess, Tatola, Sam Burgess, Doueihi and Graham making 100+m in the match. Defensively Cook was our best in the tackling raking up 37 tackles. Tom Burgess, George Burgess, Doueihi and Graham didn't miss a tackle.