2019 - The Cyber View from the Hill
2nd October 2019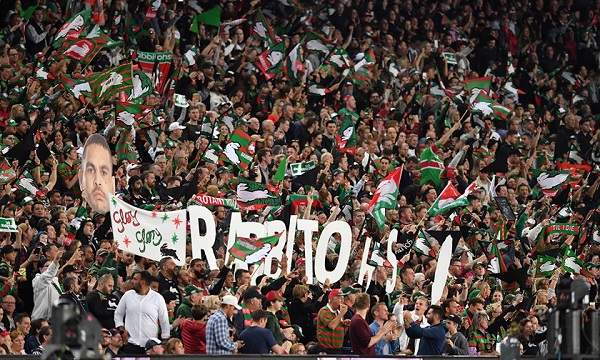 First Grade fall one game short
It was heartbreaking, travelling to the nations capital only to have our hopes dashed. We looked like we limped into the preliminary final and were well in the game. But we couldn't capitalise on our chances. Playing a Top 4 team requires a different style of attack, including a air attack to beat more structured defence. With so many teams this year being sub-standard it meant Souths didn't have many opportunities to home their Top 4 skills this year. But a Top 4 finish is overall good result for the club. But we will need to find 10% improvement for next year.
Walker Top Try Scorer
Cody Walker ended the year as our Top try scorer with 16 tries. It was a great feat as the record for a five-eight is only 19 tries. His ability to sniff out a try is first class as he continues to improve with age.
Thank You Sutto
Its been 18 years since John Sutto made his 3rd grade debut. The longest career ever for all 1153 first grade players. He has been a marvelous player over the years. Other players we will missing the coming years George Burgess and Turner.
U20s Premiers
Its been 30 years but we finally have brought home our first lower grade trophy. It was a marvelous defensive effort second half effort for our U20s team. They had fought their way through 3 sudden death matches to win the big game. Top try scorer was Josh Cook with 11 and the top point scorer was Blake Taaffe with 156 points.
Change The Referee/Trainer Rule
A grand final outrage occurred once again when the ball hit the Easts trainer after 2 minutes off a chargedown which could have led to a Canberra try. But the issue highlights out outdated the old 1908 rule is when a scrum is no longer a contest. So a update is required. You could adopt the AFL method which is to award a penalty against the trainer. Or award the scrum feed to the defending team. But if it occurred on the 5th tackle it should result in a changeover. At the moment the rule does not stop trainers from deliberatly getting involved either. Also we need to stop the Blue and Orange trainers acting as a Under 7 style onfield coach. Which is actually banned from Under 10s up.
Preminary Final - Stat Attack
Statistically it was a poor game. Completion improved to 80% from 74% last week. Errors dropped to 11 from 10 last week. We gave away 3 penalties from 4 last week. Souths Effective 1st tackle dropped to a poor level of 35.9m from 31.3m last week. Our missed tackles improved to a poor level of 30 from 36 missed tackles last week. Opposition offloads improved to 9 from 10 last week.
Looking at our left side defence - Johnston-Graham-Walker-Sutton/Britt (0-1-0-2) improved to 3 from 13 missed tackles last week. On the right side CAllan-Gagai-Reynolds-Lowe (2-1-0-4) was improved to 7 from 9 missed tackles last week. Ruck defence SBurgess/TBurgess-Cook-Knight/Nicholls-Murray/Tatola (7-3-4-4) was dropped to 18 from 11 missed tackles last week.
Our go forward was improved to 1675m from 1616m last week. Tom Burgess made 10+m per run. Sam Burgess, Knight, Sutton, Lowe, Tom Burgess, Doueihi, Graham and Walker making 100+m in the match. Defensively Cook was our best in the tackling raking up 54 tackles. Tom Burgess, Tatola, Nicholls, Britt, Reynolds, Walker and Johnston didn't miss a tackle.