2020 - The Cyber View from the Hill
19th February 2020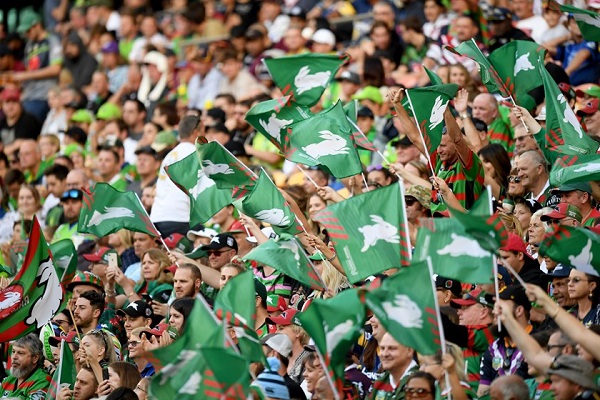 Youngsters help save the 9s
Souths started poorly in the 9s losing their first game and being 8 points down in the second. Then a interesting change occured. Our U20s spine of Jish Cook, Taaffe and Ilias came on to run the show. Suddenly Josh Cook scored followed by a great Ilias / Taaffe combination had Souths back in front and some cool heads with 9s experiance in Graham and Goodwin turned the game into a quater final qualification. The yound crew gain a lot of experiance after a nervous start.
Forward Battle
There is a interesting battle to replace the big hole left in our forwards with the departure by Sutton, Sam Burgess, George Burgess and Turner. A number of fringe forwards are trying out to fill the gap with players also coming up. Mago and Koloamantangi had a hitout in the 9s, Sele is now in the system while Quinn and Siolo had a good trial.
French brothers unite
In a first Matt finially got a chance to play with big brother Josh. There a few years difference between the boys and this was one of the first chance to play together other than in the backyard. And in Souths colours to boot.
Mundine and Robinson show
Just when we are all talking about the new young guns, two more arrive on the scene. Chase Robinson and CJ Mundine had tremdous games in the U20s trials, interchanging between 5/8 and fullback both are ready to explode this year.
U18 Comeback
U18s got off to a slow start and early in the second half were 18 nil down. But when one of the havles got injured it triggered a revival the SB Ball team came home strong, scoring 3 unanswered tries and finished with a goal kick from the sideline to draw their first match.
Girls big first up win
Our girls got off to a flyer in their first hit out for the season. They piled on the points which will please new coach Widders. Looking good for the new season.
First 20/40
The new 9s saw our first 20/40 kicked during its open spaces. It will be interesting to see how often it really will be used in the competition proper. The tactic will be risky and may only be used during a desperate play by a team looking for points rather than a legimate attacking ploy.