2020 - The Cyber View from the Hill
26th February 2020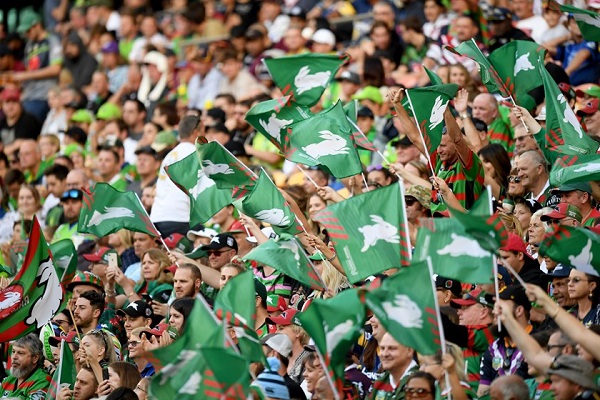 Reserve Grade boys strong trial win
This week we played virtually a reserve grade squad against Parramatta who started the game with the first grade squad. Parramatta got off to early lead but by halftime the boys had pulled them back and went in with a lead. Then when both sides put on the bench players we extended our lead to wrap up the match. While only a trial the ability of our fringe players to stand up and challenge establish players puts us in a good position as we enter the season proper.
Captain Tom
Congratulations to Tom Burgess who got the opportunity to lead out the Rabbitohs for the first time in a match. He put on a powerful display to lead from the front and got a try to boot.
Welcome Sele and welcome back Alvardo
A few more players are making a go of it during the trials. Hame Sele has come across and made a very good first impression as a lock with strong leg drive. While popping up again was former U18s player Tristan Alvardo who is trying to get one of the potential prop positions available. It will be important that our team has its fair share of good props. Like John Lnag used to say you need 6 props in a team, 2 starting, 2 on the bench and 2 out injured or suspended.
Aidan Manowski improvement
Speaking about props, one player who is impressing in the U20s trials is Aidan Manowski. He has grown and this is helping with his prop play this year regularly making yards and strong defence. Watching his progressing closely this year.
Ka (Kalo Kalo) taking his chance
Terrell, has been given an opportunity to show his skills while Suaalii is at school, and he is making every post a winner. He represented NSW U16s last year and has been working well at fullback, scoring a try a game so far this season. One to watch.
Fringe girls some work to do
Our fringe girls, without their All-Star players had a tough trial against the Bears. There is still one more trial before the season proper with team in good hands under Dean Widders.
Mess in Tonga RL
The IRL has completed its investigation and expelled Tongan RL from the RL federation. This is a body blow to the game in Tonga, with their NRL dominated representative team being once again called the Tongan Invitational team. It will be important to address the structure of Tongan RL and for the IRL going forward that addresses the basically amateur status of the game locally but with a major professional group of players. The IRL, APRLF and NRL can't let this drag out as it will damage the game locally, and in the Pacific, and drive players away from playing for Tonga. It will be important for the IRL to setup a board structure model for countries that transition from amateur operation to professional setup. Fiji, PNG, Italy, Greece and Malta have shown that this can be done and domestic fixtures like Overseas v Residents is a SOO draw style card for the locals. Hopefully some good for all nations can out of this.