2020 - The Cyber View from the Hill
4th March 2020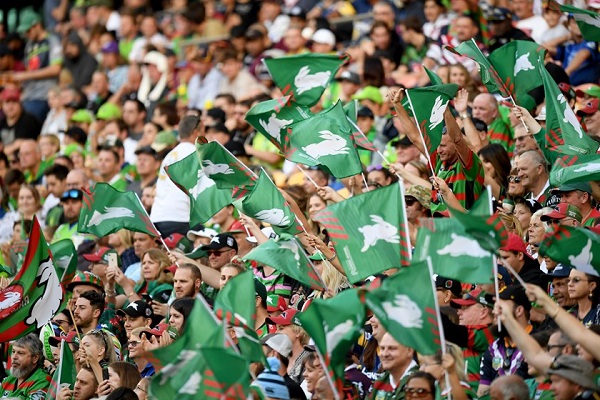 Souths Retain Shield 21 times
What a great second half comeback by the kids. It has allowed Souths to retain the Chaity Shield for 8 years on the trot and 21 seasons overall. Its been a good steady start by the team with the first grade players gaining mutch needed match fitness while the young players continue to show the future is in good hands. We also saw Trell play his first game in the red and green with a solid performance at the back. Now for a week off before the season gets underway.
Taaffe steals show
While the main squad were getting their first run for the year, Blake Taaffe stole the show on the weekend with a big game when he came on in the second half. His speed around the ruck and short kicking game had the opposition in 6s and 7s. He will have a big future, with season 2020 being his reserve grade development year.
Garlick leads reserves
Congratulations to Bronson Garlick who was a very young child on the shoulders on 1999 captain Sean Garlick in the fightback rallies. This week he led the Souths Canterbury Cup team in the season launch.
Easthope raking up points
Fruean Easthope is making a habit of scoing points in our U20s trials. He is a big body right winger who can also kick goals. He has scored 3 tries across the trails so far.
U16s break through
Its been a tough oening for our U16s boys. Losing all their trails and the opening few rounds. But on the weekend the clocked up their first win for the season with a strong 24-18 win after leading by 20-6 at one stage. The team is a yound team for this season and will need to work, but it was good to get their first win.
Welcome to our Touch teams
Late last years a few Rabbitohs teams decided to play under the Rbbitohs banner in Coffs harbour. This has now been translated in full NRL Touch teams where Souths now have a Mens and a Womens team. The non contact version of the game continues to grow with 7 of the 16 NRL participating.
Mar 1 should be 25 not 29 players
The new NRL and RLPA agreement is leading to an issue that the NRL will need to address soon. There are players who are signed to contracts who lose form, and on the converse side there are players who show good form in the early permership rounds. In the past players could move into first grade freely or as part of the second tier cap. Today you need to identify 21 members of squad by Nov 1 and 29 by Mar 1 before a ball has been kicked in anger. 29 is too high and we should should revert back to only needing to lock in 25 players on Mar 1 with clubs still needing to lock in their 30 man squad by Jun 30. This allows clubs room to address players performance on the paddock in the current season than trying to lock in players almost 2 years in adavance at times.
Charity Shield - Stat Attack
Statistically it was a good game. Completion dropped to 69% from 80% last year in the preliminary final. Errors dropped to 15 from 11 last year. We gave away 4 penalties from 3 last year. Souths Effective 1st tackle improved to a good level of 29.7m from 35.9m last year. Our missed tackles improved to a average level of 27 from 30 missed tackles last year. Opposition offloads improved to 5 from 9 last week.
Looking at our left side defence - Graham-Burns/Goodwin-Walker/Dargan-Murray/Johns (2-4-3-4) dropped to 13 from 3 missed tackles last year. On the right side DGagai/CAllan-Roberts/Goodwin-Reynolds/Taaffe-Su'A/Koloamatangi (1-1-3-2) was steady at 7 missed tackles this week. Ruck defence Tatola/Mago-Cook/Sironen-Burgess/Amone-Knight/Sele (0-2-2-3) was improved to 7 from 18 missed tackles last year.
Our go forward was improved to 1800m from 1675m last year. Mago, Sele, Amone, D.Gagai and Taaffe made 10+m per run. Tatola, Murray, Knight, Sele, Amone, D.Gagai and Graham making 100+m in the match. Defensively Cook was our best in the tackling raking up 31 tackles. Tatola, Mago, Sironen, Amone, Mitchell, D.Gagai, Roberts and Johnston didn't miss a tackle.