2020 - The Cyber View from the Hill
18th March 2020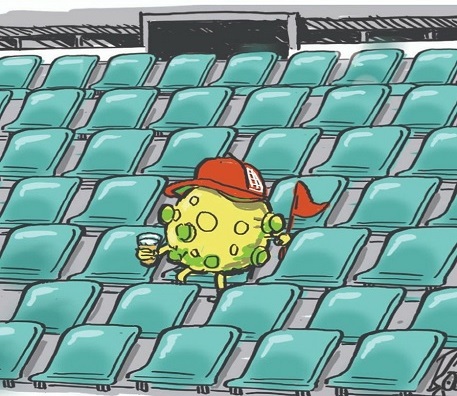 Lockdown
24 hours before Sharks kickoff the Australian Government responded to growing concerns over the COVID-19 pandemic. This had the impact of reducing crowd number by half, as weekend games went ahead in a eerie atmosphere after big crowds on Thursday and Friday. Souths got off to a good start and dominated the game for the first 60 minutes. Fitness proved to be a issue in the final 20 minutes as the team faded letting in two tries and almost losing the game. As we go into round 2 the NRL has taken the unprecidented step of locking fans out of the game. It will be a strange feeling watching the game without a crowd this weekend. The big question on everyones minds, how long can the NRL compeition go on under lockdown?
Tatola strong performance
Junior Tatola came out this weekend and wanted to show he could fill the gap in our forwards. He had a dominate game both with the ball and in defence. If he can continue this form he will make a big mark on our 2020 campaign.
Goodwin Returns
Welcome back Bryson Goodwin who played his first premiership match on Australian soil for 2 years. He made a solid return in our reserve grade game, as his experiance guiding our young guns will be invaluable.
Ilias the hero
18 nil down early in the game, our U20s boys just never gave up. They worked hard to get back into game and dominated the second half. Lachlan Ilias proved to be the differnce scoing 2 vital tries. But after missing two goals from the left sideline had the job, was given a opportunity to win the game with a penalty from the right sideline, which he nailed under pressure. He is having a very good year in 2020.
U18s Powerful win
U18s put on a very strong performance against the last placed Pirates. In a game that started out in a point a minute contest, we saw good performance all round.
Belle debuts
Cody Walkers partner Nellie Belle debut was the talk before the game. She had been working he way up from the Redfern All Blacks and together with Cody have become our first husband and wife Rabbiohs.
Issues with Captains Challenge
After a few trials and a full round of football, teams have been struggling with the Captains Challenge. First issue has been what to challenge. The rules favour using the challenge in a knock on situation that resulted in stoppage. But the picture quality and frame rate of the TV broadcast is too slow to determine if someone touched the ball even if everyone on field saw it bar the referee. The other concern is it is being used a chance to gain a rest when under the pump and adding another stoppage in the game. There will need to be some adjustments for it to continue.
Round 1 - Stat Attack
Statistically it was a game started well but ended very poor. Completion improved to 75% from 69% last week. Errors improved to 9 from 15 last week. We gave away 13 penalties from 4 last week. Souths Effective 1st tackle dropped to a poor level of 36.1m from 29.7m last week. Our missed tackles dropped to a poor level of 31 from 27 missed tackles last week. Opposition offloads dropped to 7 from 5 last week.
Looking at our left side defence - Graham-Burns-Walker-Murray/Lowe (2-4-4-3) was steady at 13 missed tackles again this week. On the right side DGagai-Roberts-Reynolds-Su'A/Lowe (1-0-1-2) improved to 4 from 7 missed tackles last week week. Ruck defence Tatola/Nicholls-Cook-Burgess/Sele-Knight/Murray (2-3-4-3) was dropped to 12 from 7 missed tackles last week.
Our go forward was dropped to 1493m from 1800m last week. Tatola, Burgess, Knight, Sele, Roberts, Mitchell and Johnston made 10+m per run. Tatola, Burgess, Knight, Lowe and Graham making 100+m in the match. Defensively Cook was our best in the tackling raking up 47 tackles. Tatola and Roberts didn't miss a tackle.