2020 - The Cyber View from the Hill
25th March 2020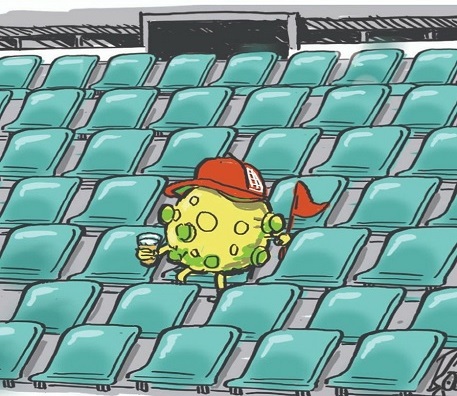 Season Suspended
Never before in the 113 year history of the NSWRL, ARL or NRL competition has the season been suspended Sport around the world had been shutdown with Soccer in Europe, to the AFL, sport in the Americas and even the Olympics in Tokyo have all been suspended. Rugby League at NRL level was the last sport still being played. But that only lasted a week. There were issues when the New Zealand government had shut the Kiwi boarders but when state boaders closed for the first time since federation in 1901, the NRL had no choice but to suspend the NRL competition after earlier suspended all pathway, community, country and junior rugby league last week.
No Crowds
The match itself was played under a cone of silence. With no crowd you could hear every playmaker call echo around the ground. Souths did a hit and run mission arriving in the morning before the game going straight to the ground, preparing and playing the match before jumping on a charter flight and back home. Souths got off to a good start and should have 10 nil up after two bombed chances. Instead they had two 8 point turn arounds, When Brisbane scored in the following period after each no try. But on the back of a string on penalties Brisbane dominated field position for over 20 minutes. When the error finally came Souths hit back with two tries, one a gem from a Mitchell and Roberts combination of a midfield scrum and took the lead just on halftime. But error after error in the second half invited the Broncos back into the game which they made the most of before another late in half rally almost stole the game.
Fullback Experiment
The Mitchell fullback experiment is receiving mixed reviews. Mitchell is a passive fullback as he feels his was into his new team. But he setup a classic try from fullback while he almost did the same from left centre. But he has some work to do in defence. Alex Johnston has slotted in smoothly into fullback and may force his way back into team.
Mess in Tonga
Tonga NRL aasociation has been formally suspended from the IRL. This example of the issue of growing pains as a nations governing body has too deal with new found professionalism. They struggled to balance a small unprofessional operation with full blown professional playing group. As such the IRL and APRLC will remould their governing body to allow the country to grow. This restructure will be seen as a model for Pacific nations. Lets home Tonga comes out of this bigger and better than ever before.
Round 2 - Stat Attack
Statistically it was a game started poorly before improving later in both halves Completion dropped to 71% from 75% last week. Errors dropped to 12 from 9 last week. We gave away 5 penalties from 13 last week. Souths Effective 1st tackle improved to a average level of 33.0m from 36.1m last week. After a very poor 42.9m first half. Our missed tackles dropped to a horrendous level of 45 from 31 missed tackles last week. Opposition offloads dropped to 10 from 7 last week.
Looking at our left side defence - Graham-Burns/Mitchell-Walker-Murray/Lowe (3-3-4-5) was dropped at 14 from 13 missed tackles last week. On the right side DGagai-Roberts-Reynolds-Su'A (1-3-5-4) dropped to 13 from 4 missed tackles last week week. Ruck defence Tatola/Nicholls-Cook-Burgess/Sele-Knight/Murray (1-3-5-5) was dropped to 14 from 12 missed tackles last week.
Our go forward was dropped to 1442m from 1493m last week. Burgess, Nicholls, Lowe, Graham, Mitchell and Roberts made 10+m per run. Burgess, Murray, Graham and Mitchell making 100+m in the match. Defensively Cook was our best in the tackling raking up 43 tackles. Only Nicholls didn't miss a tackle.