2020 - The Cyber View from the Hill
17th Jun 2020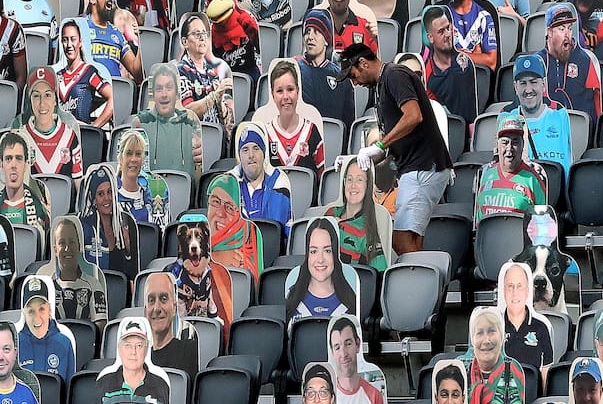 Souths return to equal 8th
On the day fans started returning to the game, Souths put in a very strong first half performance to get back on the road again. The day game helped improve our handling, and this paid dividends on the scoreboard. Our combinations improved and we were able to defend well in the second half to get our first 2 competition points after the COVID break. We beat the team sitting at the bottom of the table so we are a way to go to be a threat to this years premiership. Its a first step in the right direction.
Burgess powers up the middle
Tom Burgess has found a new lease of life away from the spotlight of his brothers. He is now seen a vital cog in our go forward. He led from the front on the weekend making a wopping 213m in a vintage display.
Welcome back Cody
You don't realise how much you miss a player until they are gone. Cody Walker was one such player. Cody's return was a vital mising link in our backline. He is a straight runner and has a good combination with Damein Cook around the rucks. He kept the opposition guessing which then paved the way for Mitchell todo his thing from the back. Looking forward to him developing combinations further with the team.
Covid-19 Trial Games are over
All teams have now had 3 weeks of football post COVID return, active cases across the country have dropped below 150. The match fitness of players is now returning and timing in game players improving. Defenses are moving back to a level where they should be. Also coaches are working out how the 6 again rule and one referee effects games. So the post COVID trial period is over and the real competition is back on.
Round 5 - Stat Attack
Statistically it was a improvement from last week. Completion improved to 85% from 63% last week. Errors improved to 6 from 18 last week. We gave away 9 penalties and 5 6-again calls from 8 last week. Souths Effective 1st tackle improved to a poor level of 36.7m from 41.5m last week. Our missed tackles was steady at a great level of 18 once again this week. Opposition offloads dropped to 12 from 9 last week.
Looking at our left side defence - Johnston-Burns-Walker-Lowe (2-3-2-0) was dropped at 7 from 4 missed tackles last week. On the right side DGagai-Graham-Reynolds-Su'A (0-4-3-2) dropped to 9 from 7 missed tackles last week week. Ruck defence Tatola/Amone/Mago-Cook-Burgess/Knight-Murray/Sironen (1-0-2-1) was improved to 4 from 5 missed tackles last week.
Our go forward was improved to 1587m from 1468m last week. Burgess, Cook, Su'A, Knight, Sironen, Gagai and Walker made 10+m per run. Burgess, Tatola, Cook, Murray, Gagai and Graham making 100+m in the match. With Burgess making 200+m in the match. Defensively Cook was our best in the tackling raking up 41 tackles. Cook, Lowe, Knight, Amone, Mago, Sironen, Gagai, Walker and Mitchell didn't miss a tackle.