2020 - The Cyber View from the Hill
24th Jun 2020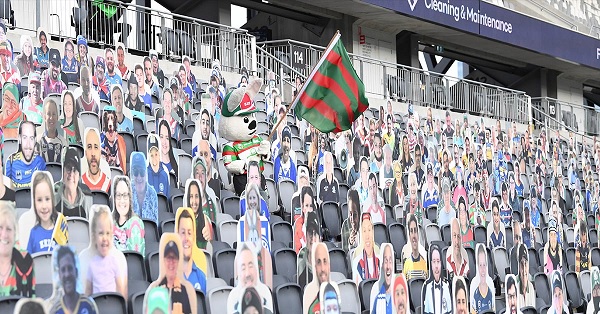 Souths move back into the 8
Two wins on the trot and Souths move back into the 8. The backline combinations are building nicely now that Walker is back in the team. But it could have easily very different if the Warriors didn't bomb so many tries. Our defence remains strong in 2020 but our handling at night continues to be a issue. Now for one of the early season Top 4 teams in Penrith.
Graham Strong game in centres
Campbell Graham has thrown down the challenge to James Roberts and wants to make the centre position his own. It was another powerful performance in defence and in attack at right centre. And has stamped himself as teh clubs best defensive centre. It will be interesting to see how Bennett selects the team over the next few weeks, as James Roberts is also a specialist right centre.
Amone injury
Rotten luck for Tom Amone. He was coming along nicely after the Covid break and had forced his way into being a regular interchange player. But his MCL knee injury and tear of his ACL has put all of that good work on hold for 8 to 12 weeks. We wish him a speady recovery hope to see him when we may need troops.
Playing Fields struggling
With up to 3 NRL games a weekend on a winters pitch every weekend has started to effect the quality of venues. Bankwest Stadium surface is getting chopped up and CAmpbelltown looked the worse for wear. Manly copped it when two players suffered long term leg injuries as a result of the surface. The NRL has moved our planned game due to this. Teams returning to their regular venues cannot come quick enough.
Round 6 - Stat Attack
Statistically it was a good game except for handling. Completion dropped to 69% from 85% last week. Errors dropped to 17 from 6 last week. We gave away 4 penalties and 3 6-again calls from 14 last week. Souths Effective 1st tackle improved to a average level of 32.5m from 36.7m last week. Our missed tackles improved and still at a great level of 16 from 18 last week. Opposition offloads improved to 9 from 12 last week.
Looking at our left side defence - Johnston-Burns-Walker-Lowe (0-0-0-1) was improved at 1 from 7 missed tackles last week. On the right side DGagai-Graham-Reynolds-Su'A/Murray (2-0-1-2) improved to 5 from 9 missed tackles last week week. Ruck defence Tatola/Mago-Cook-Burgess/Knight-Murray/Sironen (3-0-5-1) was dropped to 9 from 4 missed tackles last week.
Our go forward was steady at 1573m from 1587m last week. Burgess, Amone, Dane Gagai, Burns and Johnston made 10+m per run. Cook, Knight, Burgess, Tatola, Graham, Dane GAgai, Mitchell, Burns and Johnston making 100+m in the match. With Graham making 200+m in the match. Defensively Cook was our best in the tackling raking up 51 tackles. Cook, Graham, Burns, Walker, Johnston and Mitchell didn't miss a tackle.