2020 - The Cyber View from the Hill
15th Jul 2020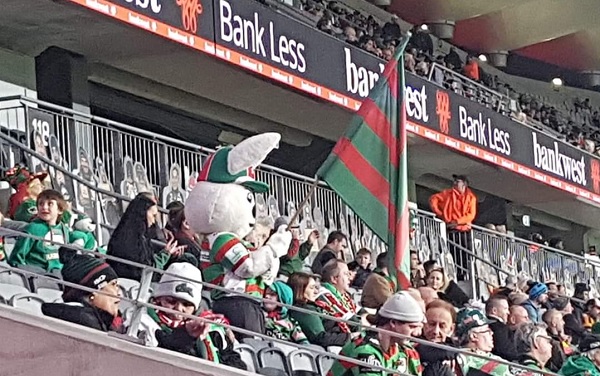 Injuries & Suspension hits
It was a arm wrestle game as a top 8 position was on the line for both clubs. South Sydney came out on top with a controlled game as they exploited a weakness on the Tigers left side defence. The effects of the 5 day turn around did kick in around the 55 minute mark as the Tigers were able to comeback into the game, but a strong defensive effort in the last 10 minutes sealed it. But a worrying sign out of the game was the loss of 3 players for the next two weeks. Two out to injury and one to suspension. Our depth is about to get tested with a number of players called up into the 21 man squad this week having not played a game since March 14 or 4 months. So now for a game again the high flying Newcastle in another important 4 point game that will effect our Top 4 chances in this shortened season. 6 more wins to make the finals.
Gagai Hatrick
Dane Gagai has become the latest Rabbitoh to clock up a hatrick of tries. His three tries gave Souths a strong lead in the game and follows on from a number of recent strong games. He moves back into the centres this week.
Sele strong game
Its taken a few weeks but Hame Sele has shown to everyone what he is capabile of. With Liam Knight ruled out before kickoff he took it upon himself to be the key bench forward and ended up leading the way with a strong running game. As a smaller middle forward he has powerful leg drive and every run put a dent in the opposition. We will need him over the coming few weeks.
Covid Second Wave
The competition and fans are on edge again after the recent Victorian outbreak has edged across the border into NSW. The mini-outbreak in the Liverpool area has put the NRL on alert with increased bio-security measures returned. Young players are forgeting about the importance of the commitments with two debutants getting caught out on the weekend celebrating with family and friends after the game. While four Warriors players will head home soon. Its going to be a tough slog for the clubs struggling to make the 8. The NRL has allowed a one month loan scheme to assist clubs like the Warriors.
Round 9 - Stat Attack
Statistically it was a strong game. Completion improved to 81% from 74% last week. Errors improved to 10 from 12 last week. We gave away 5 penalties and 1 6-again call from 10 last week. Souths Effective 1st tackle improved to a very good level of 25.8m from 34.6m last week. Our missed tackles dropped to a poor level of 32 from 20 last week. Opposition offloads improved to 6 from 8 last week.
Looking at our left side defence - Johnston-Graham/Murray-Walker-Lowe (0-4-3-4) was dropped to 11 from 7 missed tackles last week. On the right side DGagai-Roberts-Reynolds-Su'A (2-2-2-1) improved to 7 from 9 missed tackles last week week. Ruck defence Tatola/Sele-Cook-Burgess/Sironen-Murray/Mago (1-3-7-2) was dropped to 13 from 3 missed tackles last week.
Our go forward was dropped at 1872m from 2001m last week. Sele, Tatola, Mago, Dane Gagai, Roberts and Reynolds made 10+m per run. Sele, Tatola, Burgess, SuA, Murray, Sironen, Dane Gagai, Graham, Roberts and Johnston making 100+m in the match. Defensively Cook was our best in the tackling raking up 47 tackles. Sele, Nicholls and Johnston didn't miss a tackle.