2020 - The Cyber View from the Hill
15th Jul 2020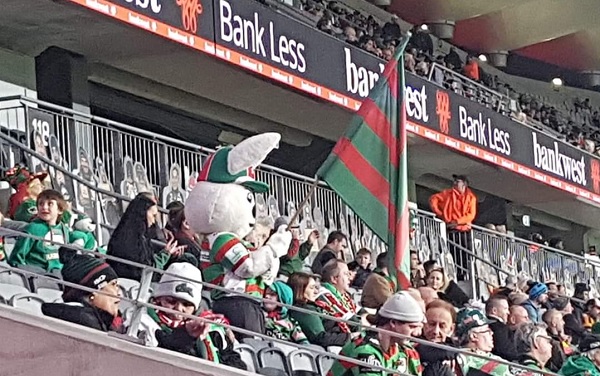 Great Comeback but not enough
Last week we started strong and faded. This week we started slowly almost jaded from the two tough games in 5 days, as one of the form teams of the competition took control of the game. But at the end of both halves Souths came back strongly. Where we almost snatched victory from the hands of defeat, losing by a penalty goal in the end. In a shorten season this loss may cost us a Top 4 chance. Our depth is getting testing as new combinations are getting their first game time together and fringe players getting much needed match fitness. So its the halway mark of the season and we sit in the Top 8 by the skin of our teeth. Its now off for another tough assignment down in the capital against last years runners-up Canberra. 6 more wins to make the finals.
Paulo powerful debut
Welcome to first grade Jaxson. Jaxson is a tall powerful winger or centre who has starred in the lower grades last year and a member of our successful U20s grand final team. He got his chance in first grade and didnt shirk at the work effort required doing a lot of hard work and setting up a great try assist to get Souths within a wisker of winning the match. Looking forward to seeing hime throughout the years to come.
Double Injury blow
When injuries start they come in waves. And a second wave hit us in this game. James Roberts tore his pec muscle and looks to be out for the season. While Ethan Lowe has a injured disk in his neck and has undergone surgery and is now also out for the season. Rotten luck for two of SOO stars. But where there is adversity there is opportunity as another two of our junior stars get a chance.
No reserve grade impacting teams
Lack of reserve grade is now starting to become a issue for NRL clubs with fringe players not getting any match fitness. Normally players get a few weeks in 20 min, 40 min and 60 min spells to regain match fitness. But without any lower grades in 2020 due to Covid-19, all players are coming into NRL games cold. This has the effect of increasing injuries for these fringe players and resulting in a drop in playing standard from that club. The answer should have been a 15 round NRL reserve grade played on match days.
Round 10 - Stat Attack
Statistically it was a poor game. Completion dropped to 72% from 81% last week. Errors dropped to 12 from 10 last week. We gave away 2 penalties and 4 6-again calls from 6 last week. Souths Effective 1st tackle dropped to a average level of 36.1m from 25.8m last week. Our missed tackles dropped to a very poor level of 35 from 32 last week. Opposition offloads dropped to 9 from 6 last week.
Looking at our left side defence - Paulo-DGagai-Walker-Lowe/Murray (3-0-4-3) was improved to 10 from 11 missed tackles last week. On the right side CAllan-Roberts-Reynolds-Su'A (0-3-3-4) dropped to 10 from 7 missed tackles last week week. Ruck defence Tatola/Sironen-Cook-Burgess/Sele/Nicholls-Murray/Mago/Sele (1-4-4-3) was improved to 12 from 13 missed tackles last week.
Our go forward was dropped at 1815m from 1872m last week. Burgess, Mago, Johnston, Dane Gagai and Roberts made 10+m per run. Burgess, Cook, Murray, Sele, Dane Gagai, Johnston, Paulo and Walker making 100+m in the match. Defensively Cook was our best in the tackling raking up 56 tackles. Nicholls, Dane Gagai and Corey Allan didn't miss a tackle.