2020 - The Cyber View from the Hill
29th Jul 2020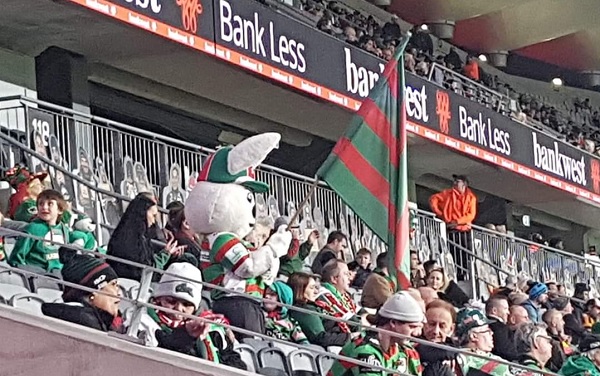 Slip out of the 8
Well it was a chilly night in the capital and Souths struggled early then clicked and ended with a lead at half time. But even though we had a good amount of possession we struggled to create opportunities once we got within the 20m zone. THis is something we need to improve as we move into the second half of the season. Still 6 more wins to make the finals as we slip out of the 8.
Johns solid debut
Another debutant this as Jack Johns, son of Matty Johns made his debut off the bench this week. Jack is a second rower who also has the skills of a five-eighth or a centre. He has the potential to become the utility Souths desperately need off the bench. Its been a long road to his NRL debut but has the opportunity to make his mark as out generation next continue to get a chance.
Girls are back in town
Its taken a while but the Girls are back in town. A new look team after the Covid break in a short 7 week compeition where a number of players have come across into the team. While it took a bit of time to get started after the break, there were good signs in the second half.
Covid now impacting Sydney
While Victoria Covid continues out of control, there has been a steady increase in Sydney after a few small outbreaks. It has now caused Queensland to close its borders to greater Sydney which includes Campbelltown, Blue Mountains and Central Coast. This is going to cause a few issues over the coming weeks with NRL clubs flying in and out of Sydney for games. We may be headed back to closed door football in the coming weeks.
Round 11 - Stat Attack
Statistically it was a good game. Completion improved to 76% from 72% last week. Errors improved to 11 from 12 last week. We gave away 7 penalties and 5 6-again calls from 6 last week. Souths Effective 1st tackle improved to a good level of 30.5m from 36.1m last week. Our missed tackles improved to a average level of 28 from 35 last week. Opposition offloads improved to 8 from 9 last week.
Looking at our left side defence - CAllan/D.Gagai-DGagai/Sironen-Walker-Sironen/Johns (2-2-2-1) was improved to 7 from 10 missed tackles last week. On the right side Paulo-Graham-Reynolds-Su'A (2-3-1-3) improved to 9 from 10 missed tackles last week week. Ruck defence Tatola/Nicholls-Cook-Burgess/Sele/Koloamatangi-Murray/Koloamatangi (5-3-2-2) was steady at 12 missed tackles this week.
Our go forward was dropped at 1643m from 1815m last week. Burgess made 10+m per run. Burgess, Tatola, Sironen, Murray, Koloamatangi, Corey Allan, Dane Gagai and Graham making 100+m in the match. Defensively Cook and Murray was our best in the tackling raking up 56 tackles. Burgess, Johns, Koloamatangi, Corey Allan, Alex Johnston didn't miss a tackle.