2020 - The Cyber View from the Hill
26th Aug 2020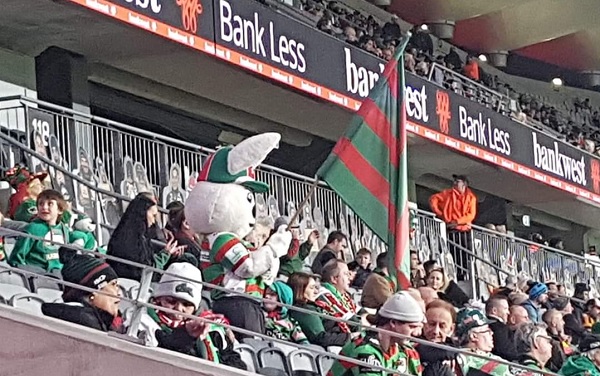 Record Win
What a win! Souths put in a their best first half of football in 113 years of playing rugby league, bettering their 37-0 efforts in 1910 and 1980, to totally dominate Manly. They totally rattled their opposition in a classy display of power and set moves. Bustling the opposition into errors late in the half. But the second half was a different story as it resulted in a 18-16 arm wrestle, as Manly regained their composure in the second half. But it was too late to stop Souths putting 50 plus points on Manly for the first time. In the context of the competition it was a important win putting Souths 6 points clear of 9th. Still 2 more wins to secure the finals and 2 points away from 4th place. Now for a Top 4 clash with high flying Parramatta.
Alex Johnston Leading Try Scorer
Alex Johnston continues to get to try line in 2020 after his return to the left wing. His speed is making a big impact out wide, and developing a very good combination with Mitchell when he chimes into the line. He is now up to 14 tries for the season and have moved into outright lead on the NRL try scorers list for season 2020. He has now scored 97 career first grade tries.
Koalamtangi metre eater
Keaon Kolamatangi continues to impress in his debut season. This week he topped the team go forward from the bench with his line speed and ability to bend the line. This is on top of last week's critical run to setup the match winning fieldgoal. He is becoming a vital cog in the team that lost Sam Burgess and Sutton at the end of the season.
ANZ Refurbishment Delayed
With the Covid outbreak many construction items have been started in and around Sydney to restart the economy. But one item that has been schelved has been the refurbishment of ANZ Stadium. All planning work has stopped as the State Government focuses on finishing off the new Sydney Football Stadium, after the recent move for the SCG Trust and Venues NSW group to merge the administration of key sporting venues. South Sydney's long term home ground venue is also up in the air, after our return to ANZ two weeks ago, with a strong push by the government for us to return to the new SFS.
Round 15 - Stat Attack
Statistically it was best agme all season. Completion improved to 92% from 74% last week. Errors improved to 5 from 12 last week. We gave away 1 penalties and 2 6-again calls from 7 last week. Souths Effective 1st tackle was improved to a the outstanding level of 17.9m from 34.3m last week. On the back of our best ever first half of 10.8m. Our missed tackles dropped to a good level of 20 from 18 last week. Opposition offloads dropped to 12 from 5 last week.
Looking at our left side defence - Johnston/Graham-Graham/Murray-Walker-Sironen (1-0-3-2) was improved to 6 from 7 missed tackles last week. On the right side Paulo-Marsters-Reynolds-SuA (1-6-2-1) was dropped to 10 from 2 missed tackles last week. Ruck defence Tatola/Koloamatangi-Cook-Burgess/Mago-Murray/Nicholls/Dillon (1-0-2-1) improved to 4 from 7 missed tackles last week.
Our go forward was improved to 1953m from 1520m last week. Koloamatangi, Burgess and Mago made 10+m per run. Koloamatangi, Burgess, Tatola, Mago, Su'A, Sironen, Murray, Graham and Paulo making 100+m in the match. Defensively Su'A was our best in the tackling raking up 32 tackles. Murray, Cook, Koloamatangi, Mago, Dillon, Johnston and Mitchell didn't miss a tackle.