2020 - The Cyber View from the Hill
3rd Sep 2020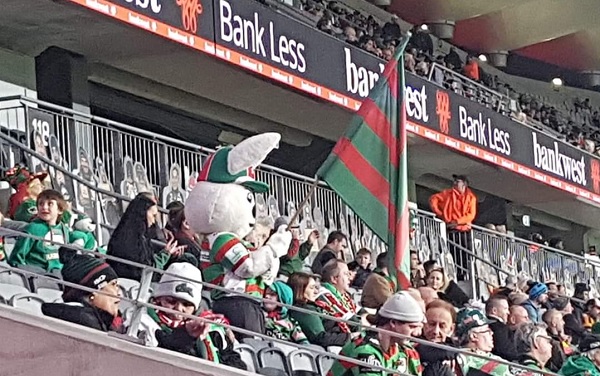 Top 4 scalp
60 nil across the last two weeks first halves of football has pushed South Sydney back into the premiership race radar. The 38 nil whitewash of early season front runner Parramatta was our first Top 4 scalp for the season and has us primed for a assult on the finals. The team continued where they left off last week and didn't miss a beat with wide sweeping plays and power up the middle. Both wins were clearly on the back of much improved handling. But a bitter blow came in the game when when MItchell lafte the field for a freak hamstring injury. Which was totally avoidable when the refeeree didn't blow a immediate penalty for a mid field obstruction. Still 1 more win to secure the finals and 2 points away from 4th place. Now for another big clash again 2nd place Melbourne.
Graham 4 tries last weeks
Campbell Graham has become a stop gap winger in the last weeks, when first Alex Johnston went down with concussion and then Mitchell's injury. But during that period on the left wing he notched two try doubles. He has become mister fix it ove the last number of rounds moving in to cover James Roberts at right centre, then moving to left centre to cover Burns and Gagai.
Girls Semi-Final confusion
After a strong win on the weekend there was a lot of confusion on what was going on the semi-finals. You see the match versus the Bulldogs where a Bulldogs girl went down injured for a extended time and the match was called off. As Souths were in the lead the match was orginally awarded as a win to Souths. Which put Souths in outright 3rd. But much later it was decided that the match result was in fact abandoned and one point each. This changed Souths position on the ladder to 6th. The finals were expanded from 5 to 6 teams to deal with the issue.
Printed Program Returns
Its been 15 weeks since the NRL Big League match day program was printed. Leaving just the Rugby League Review bi-monthly publication in print. But filling the void has been a group of rugby league enthusiasts with a electronic version of the match day program. But this week we see it return to print with the Souths game at ANZ Stadium being its return to match days as a limited number publication. Wishing the group well in their return.
Round 16 - Stat Attack
Statistically it was another outstanding game. Completion dropped to 83% from 92% last week. Errors dropped to 8 from 5 last week. We gave away 2 penalties and 5 6-again calls from 3 last week. Souths Effective 1st tackle was improved to a the good level of 25.7m from 17.9m last week. Our missed tackles improved to a very good level of 19 from 20 last week. Opposition offloads dropped to 16 from 12 last week.
Looking at our left side defence - CAllan/Graham-Graham/Murray-Walker-Sironen (1-2-1-0) was improved to 4 from 6 missed tackles last week. On the right side Paulo-Marsters-Reynolds-SuA (0-2-3-1) was improved to 6 from 10 missed tackles last week. Ruck defence Tatola/Koloamatangi-Cook-Burgess/Knight-Murray/Nicholls/Mago (0-2-4-3) dropped to 9 from 4 missed tackles last week.
Our go forward was improved to 2108m from 1953m last week. Our best all season. Koloamatangi, Sironen, Knight, Mago, Corey Allan, Walker, Mitchell and Graham made 10+m per run. Tatola, Koloamatangi, Knight, Su'A, Burgess, Sironen, Corey Allan, Graham, Paulo, Walker, Mitchell and Reynolds making 100+m in the match. Defensively Cook was our best in the tackling raking up 41 tackles. Tatola, Sironen, Kolomatangi, Paulo and Mitchell didn't miss a tackle.