2020 - The Cyber View from the Hill
9th Sep 2020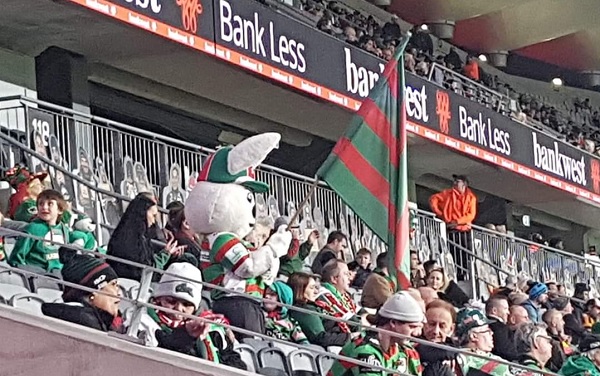 Melbourne Dropsies
The game started well and our combinations caused a lot of concerns in the first half. Then the heavens opened and suddenly Souths could no longer hold the ball. We cannot continualy drop the ball for 20 minutes against any team let alone a top 8 outfit. This gave them an opportunity and took it immediately to get back in front. It was an important clash as we move into the last few rounds in readiness for the finals. Still 1 more win to secure the finals but 4th place now looks out of reach.
Tom Burgess strong game
Tom Burgess is stepping out of the shadow of his brothers with another powerful display. He has a shinning light all year and continues to improve.
Girls bow out
Its been a tough year with a volume of new players trying to gel in the post covid period. Janaya Bent was the leading try scorer for the team with RU convert Arabella McKenzie our top point scorer. The team had some good wins and finished equal 3rd but need to improve if we want to progress further next year.
Game Management Causing issues
Season 2020 has moved away from referees policing the rules as they see them to now doing more and more game management. This first started in penalties and has now moved to ruck infringements. Too often we are seeing penalty and 6 again counts looking very even after a game. Better teams are now noticing the trend and rather than stopping infringing they continue, knowing that the referee won't want to finish the game with a lopsided penalty count. This is something the NRL is going to have to deal with as we enter the finals.
Round 17 - Stat Attack
Statistically it started well but finshed poorly. Completion dropped to 66% from 83% last week. Errors dropped to 15 from 8 last week. We gave away 6 penalties and 4 6-again calls from 7 last week. Souths Effective 1st tackle was dropped to a the poor level of 35.5m from 25.7m last week. With our worst 2nd half performance for the year of 47.6m. Our missed tackles dropped to a average level of 25 from 19 last week. Opposition offloads improved to 5 from 16 last week.
Looking at our left side defence - Johnston-Graham-Walker-Sironen (0-0-3-2) was dropped to 5 from 4 missed tackles last week. On the right side Paulo-Marsters-Reynolds-SuA (0-2-6-1) dropped to 9 from 6 missed tackles last week. Ruck defence Tatola/Nicholls-Cook-Burgess/Koloamtangi/Knight-Murray/Mago (2-0-5-2) was steady at 9 missed tackles again this week.
Our go forward was dropped to 1676m from 2108m last week. Burgess, Tatola, Nicholla, Knight, Mago and Koloamatangi made 10+m per run. Burgess, Cook, Tatola, Nicholls, Campbell, Corey Allan, Walker, Paulo and Johnston making 100+m in the match. Defensively Murray was our best in the tackling raking up 44 tackles. Cook, Tatola, Graham, Johnston and Paulo didn't miss a tackle.