2020 - The Cyber View from the Hill
16th Sep 2020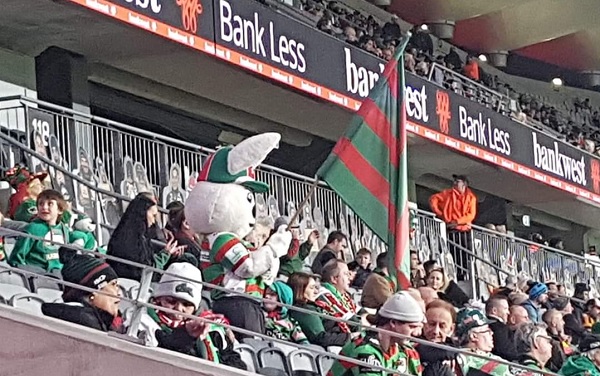 Finals place secured
Another week and South Sydney got off to good start. Another good set of tries and we lead again 20 nil. But against 12 and then 11 men we weren't able to capitalise and ended up hanging on for a win. As expected the Tigers with the season on the line made a comeback. But the concern is our defence in 2020. Teams were again able score points as we go into halftime. This will be an issue as head into finals where we avaerage letting in 18.5 points against top 8 opponnets. Finals position is now secured finals. 4 points out of the Top 4 with only 2 games to go.
Walker shines
Cody Walker is running into top form as we head into finals. He is now floating around the field and scoring some fantastic tries and last weekend he also put on 3 try assists. Looking forward to a lot more,
Cartwright debuts
Jed Cartwright made his debut with the Rabbitohs in a solid display out on the right wing. A mid year transfer to cover the loss of injured James Roberts he has his chance.
Crowds to lift to 50% for finals
The NRL continues to challenge the bubble. With finals in Queensland able to be played with 50% venue capacity, the NRL now wants to do the same in NSW. This will mean finals crowds will increase up. Currently we only have 150 active cases in NSW. But with still no tested vaccine the whole economy looking on how do we move forward in this pandemic year.
Round 18 - Stat Attack
Statistically it was a improved overall game. Completion improved to 75% from 66% last week. Errors improved to 10 from 15 last week. We gave away 4 penalties and 2 6-again calls from 10 last week. Souths Effective 1st tackle was improved to a the good level of 26.0m from 35.5m last week. Our missed tackles improved to a very good level of 19 from 25 last week. Opposition offloads dropped to 10 from 5 last week.
Looking at our left side defence - Johnston-Graham-Walker-Sironen (0-2-3-0) was steady at 5 missed tackles again this week. On the right side Gagai-Marsters/Cartwright-Reynolds-SuA (0-2-5-1) was steady at 9 missed tackles again this week. Ruck defence Knight/Nicholls-Cook-Burgess/Koloamtangi-Murray/Mago (1-1-0-3) improved to 5 from 9 missed tackles last week.
Our go forward was improved to 1851m from 1676m last week. Knight, Nicholls, Koloamatangi, Gagai, Graham and Johnston made 10+m per run. Burgess, Knight, Su'A, Sironen, Gagai, Graham, Allan and Johnston making 100+m in the match. With Gagain making 200+m for the match. Defensively Cook was our best in the tackling raking up 58 tackles. Knight, Burgess, Sironen, Koloamatangi, Gagai and Johnston didn't miss a tackle.