2020 - The Cyber View from the Hill
7th Oct 2020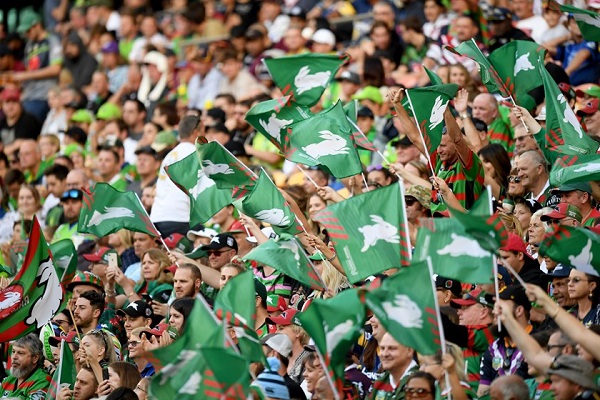 Highest ever Finals score
Another great victory saw us rattle up our highest ever finals score of 46 points beating the 1956 tally of 45, in front of our highest ever crowd in Sydney versus Newcastle. This is now 106 points in two weeks. But like for all 4 finals games this week we got off to a slow start. We lost momentum off a dropped ball and then let in 14 points in the first 11 minutes. But it wasn't until the Knights dropped the ball before momentum swung back our way. But when it did we went through and scored 46 unanswered points. Defence has greatly improved in the middle period of the game. Its now 2 knockout games to the big dance, with Parramatta up next.
Tatola Double
Tatola had a few weeks off a month ago and has come back stronger and fresh for the finals. This week he put in another strong forwards performance and was rewarded with two tries up the middle.
Walker 10 season tries
Cody Walker continues to have a huge influence on the game. Since Mitchell was injured he has moved into a roving 5/8 role. Popping up as a ball player outside of Reynolds or coming in like a running fullback. The combination with Reynolds is turning into one of the most leathal in the competition. He now has 19 try assists and has scored 10 tries so far this season.
Play Finals at Big Stadiums
During a COVID season with 50% ground capacity it was very poor NRL management to use finals venues where capacity is less than 10k. The Penrith game sold out with 8,000 and Canberra sold out with 9,600. In Sydney we have two large venues in the SCG which can hold 20,000 under COVID rules while ANZ Stadium can hold 40,000. This season should have seen all finals games played at ANZ Stadium with no Queensland clubs making the final 8. Even this weeks game at Bankwest with a capacity of 15,000 sold out for 2 well supported Sydney teams, while 5km down the road is a empty 40,000 capacity stadium
Preliminary Semi-Final - Stat Attack
Statistically it was a average game in the heat. Completion dropped to 78% from 84% last week. Errors dropped to 11 from 10 last week. We gave away 1 penalties and 2 6-again calls from 2 last week. Souths Effective 1st tackle was dropped to a the average level of 31.2m from 22.2m last week. In a tale of two halves. Our missed tackles dropped to a very good level of 16 from 13 last week. Opposition offloads improved to 7 from 14 last week.
Looking at our left side defence - Johnston-Gagai-Walker-Sironen/Cartwright (1-2-0-2) dropped to 5 from 1 missed tackles last week. On the right side Paulo-Graham-Reynolds-Murray/Su'A (0-1-0-0) improved to 1 from 5 missed tackles last week. Ruck defence Tatola/Knight/Nicholls-Cook-Burgess/Koloamatangi-Knight/Murray (2-3-2-1) dropped to 8 from 5 missed tackles last week.
Our go forward was dropped to 1737m from 2090m last week. Cook, Burgess, Tatola, Knight, Murray, Koloamatangi, Nicholls, Cartwright and Allan made 10+m per run. Cook, Burgess, Tatola, Murray, Knight, Allan, Gagai, Paulo and Walker making 100+m in the match. Defensively Cook and Murray was our best in the tackling raking up 39 tackles. Tatola, Murray, Su'A, Koloamatangi, Walker, Reynolds and Paulo didn't miss a tackle.