2020 - The Cyber View from the Hill
14th Oct 2020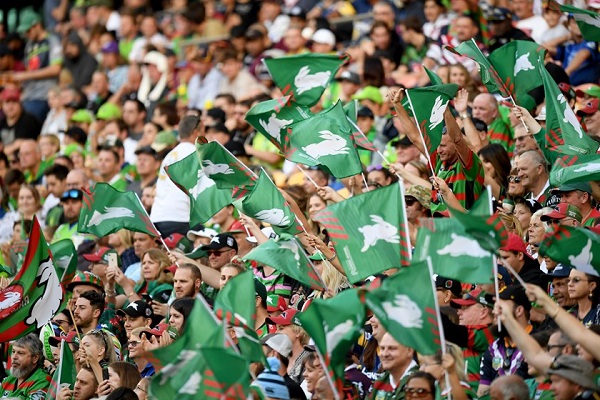 Strong Comeback
This team continues to set points scoring records. This has been the most points by a Souths team over 3 games in 110 years with 144 points. Our 1910 team scored 154 points. But it wasn't one way traffic this week. We got off to a good start. But Parramatta capitalised soon after, when Su'A went down with a knee injury. In the space of 5 minutes we went from a 8 nil lead to being 18-8 down. But the second half pep talk worked as the team adjusted their game plan after Cody Walker was being targeted and it paid dividends, as we went about scoring 30 points in the second half. We are now in our 3rd preliminary final in 3 years with another knockout game to the big dance. Minor Premiers Penrith on a 16 game winning streak are well rested, and have got to where they are on the back of a high completion rate game.
Paulo Double
Jaxson Paulo is stepping up as we run through the finals. He scored our opening try and great anticipation saw him score a great second second try. He is also very heavily involved in the kick returns area of the game and ran over 200 metres this week. He continues to prove to be a valuable asset.
Cook mesmorises
With Cody Walker heavily marked this week, a change in tactics in the second half saw Cook running more from dummy half. This paid dividends in how he setup Liam Knight for a try that got Souths back into the game and helped swing the momentum back to Souths in the second half. His try late in the game was pure speed and left the Parramatta fullback spawled across the tarmac.
Finals High scores
Everyone wondered how the finals games would playout with the new rules. But after two weeks we have seen all teams across the 6 games thus far let in 18 or more points, in high scoring affairs. It is very entertaining but the rules may have swung the pendulum towards attack a bit too far. We are already seeing team breach the 10m rule to try and slow down the momentum, and it is changing the tackle set rythem as teams now defend 6 to 12 tackle sets. 6 again on 1st tackle is becoming more snd more common, especially when working your way out from the tr line as the 6 again infringment is less damaging than a penalty with the "error under pressure" reward worth the risk
Semi-Final - Stat Attack
Statistically it was another average game. Completion dropped to 71% from 78% last week. Errors dropped to 16 from 11 last week. We gave away 3 penalties and 4 6-again calls from 3 last week. Souths Effective 1st tackle was dropped to a the average level of 32.3m from 31.2m last week. Our missed tackles dropped to a good level of 22 from 16 last week. Opposition offloads dropped to 16 from 7 last week.
Looking at our left side defence - Johnston-Gagai-Walker-Sironen (1-5-3-2) dropped to 11 from 5 missed tackles last week. On the right side Paulo-Graham-Reynolds-Su'A/Carwright (1-2-2-1) dropped to 6 from 1 missed tackles last week. Ruck defence Tatola/Nicholls-Cook-Burgess/Knight-Murray/Koloamatangi (0-1-2-1) improved to 4 from 8 missed tackles last week.
Our go forward was improved to 1860m from 1737m last week. Cook, Burgess, Nicholls, Koloamatangi, Paulo, Johnston and Cartwright made 10+m per run. Cook, Burgess, Sironen, Nicholls, Paulo, Gagai and Allan making 100+m in the match. With Paulo making over 200+m. Defensively Cook was our best in the tackling raking up 47 tackles. Tatola, Nicholls, Knight, Koloamatangi and Cartwright didn't miss a tackle.