2020 - The Cyber View from the Hill
21st Oct 2020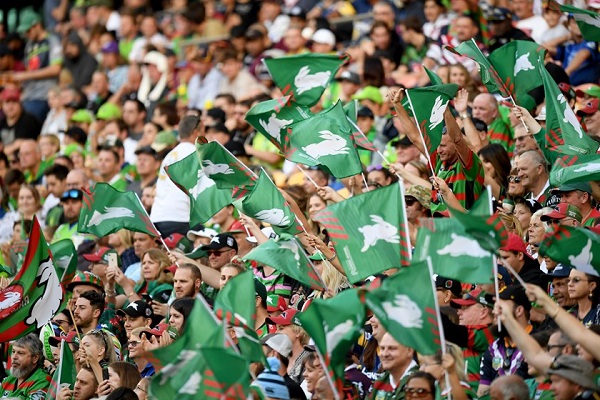 Season ends one game short again
It was a tough contest against minor premiers Penrith, where we lost the forwards battle and struggled to stay in the contest. A early try and a number of missed opportunities meant late in the game we were able to claw our way back. A late try by Corey Allan got us within striking distance and Adam Reynolds almost pulling off a 40-20 in the dying minutes almost gave us the play we might have needed to win the game. But alas we fell one game short of the grand final for the 3rd year in a row. All in all a good season after the early retirements of Inglis, Turner Sam Burgess from last years team compounded by the season ending injuries to Burns, Amone, Roberts and Mitchell.
Graham, Tatola and Sironen injuries
A long finals campaign eventually becomes a war of attrition, and 2020 campaign was no different. Before the match kicked off we lost Campbell Graham, then after 23 minutes we lost prop Junior Tatola and sx minutes later we lost our second rower Bayley Sironen. It was a big ask for the team to then play such a big game with only 15 men.
Corey Allan SOO reward
Corey Allan has done a magnificaent job filling in at fullback for Mitchell. So good that he has been called up into the State of Origin camp. His soccer try 10 minutes from the end was all class to get Souths back into the game.
Big men dominate
In a challenging Covid season, the week off was a god send for the top 2 teams. It allowed their teams to mentally rest and big men freshen up. But it was interesting that the best two teams in 2020 also had the biggest packs.
Preliminary Final - Stat Attack
Statistically it was another average game. Completion improved to 75% from 71% last week. Errors improved to 12 from 16 last week. We gave away 2 penalties and 2 6-again calls from 7 last week. Souths Effective 1st tackle was improved to a the average level of 31.7m from 32.3m last week. Our missed tackles dropped to a distratous level of 40 from 22 last week. Second worst all season. Opposition offloads improved to 4 from 16 last week.
Looking at our left side defence - Johnston-Gagai-Walker-Sironen/Murray (0-2-3-5) improved to 10 from 11 missed tackles last week. On the right side Paulo-Murray/Cartwright-Reynolds-Su'A (2-4-3-2) dropped to 11 from 6 missed tackles last week. Ruck defence Tatola/Nicholls-Cook-Burgess/Koloamatangi-Knight/Sele (3-3-6-4) dropped to 14 from 4 missed tackles last week.
Our go forward was dropped to 1602m from 1860m last week. Nicholls, Sele and Murray made 10+m per run. Knight, Nicholls, Koloamatangi, Murray, Gagai, Paulo, Allan, Cartwright and Reynolds making 100+m in the match. With Paulo making over 200+m. Defensively Cook was our best in the tackling raking up 51 tackles. Koloamatangi and Johnston didn't miss a tackle.