The National Rugby League (NRL) will continue to work with governments in Queensland, Victoria and New Zealand about what restrictions may look like at the end of May. ARLC Chair Peter V'landys said based on current advice and government approvals the competition was ready to commence on May 28. "Our goal is to give as much certainty as we can in uncertain times. There is clear evidence the curve is flattening. The NSW Government has done a great job in reducing the infection rate from 22.27% when we suspended the competition to 1.43% today," he said. "The situation is changing dramatically and we need to get moving. It is in the best interests of our clubs, our players, our stakeholders and importantly our fans that the competition resumes as quickly and as safely as possible. "We have said right from the start that what we say today may need to change tomorrow. We will be flexible, and if the trend changes or if government restrictions change then so will we. The health and safety of our players and the general public remains the absolute priority." Project Apollo Chair Wayne Pearce said the committee's focus was to find a pathway for the competition to resume as quickly and safely as possible. "I want to thank everyone involved in the committee, and other stakeholders who assisted Project Apollo, for the manner in which they have attacked our challenge," he said. "As a game, we are all united in doing everything we can to resume the competition. Project Apollo discussed some of the most innovative ways to not only resume the competition but to revolutionise the game and the work completed will be useful for the years to come. There is still more work to do but we have built a strong platform to resume our game."
Areas that are still being discussed are should points from first two rounds remain, two conferences model of 8 teams Regional/Sydney versus a 15 round competition or a full 25 rounds, and locations of the NRL bubble like on Tangalooma island off the coast of Brisbane and ferried into Suncorp, Sydney Olympic Park or Penrith. The issue of 2 weeks of isolation also remains for teams crossing borders from Queensland and New Zealand and if a pre-season is required.
NRL Project Apollo - May 4 Training to Resume
22nd April 2020
The Project Apollo working group has today agreed to finalise a set of new health and biosecurity protocols in order to ensure player and staff safety to recommence the 2020 Premiership season. The committee agreed to continue to work towards a resumption of training on May 4 and reaffirmed its aim for the competition to recommence on May 28. The protocols are designed to reduce the risk of infection for players, staff, officials and the community. Anyone who does not comply with the protocols will face sanctions. Project Apollo agreed all NRL measures will be more stringent than government restrictions. The Australian Rugby League Commission (ARLC) will endorse a specific proposal about player movements, training and game day protocols in the coming week. The protocols will be reviewed every time federal and state governments review their protocols. ARLC Chair Peter V'landys said health and biosecurity protocols were being formed on the best expert advice in consultation with club and player representatives to ensure a competition restart. "Right from the start we said player, staff and officials' health and safety would be the priority and we would base the rules on the advice of the experts," he said. "These will be the toughest possible protocols but they need to be to ensure our playing group and staff stay healthy and the game can continue." Mr V'landys said the NRL would work with clubs, players and staff to develop the sanctions. "There will be sanctions. We've got no option, there must be a deterrent because one reckless act will bring down an entire competition and the livelihoods that come with that. We will continue to work with the RLPA about what those sanctions will be for individual players." Mr V'landys said the competition remained on track to resume on May 28. "We made it clear earlier this month that our target date is May 28 and we are on target to resume then. There's no reason not to resume, the infection rate in NSW has been less than 1% in the last ten days, coming down from 22.27% when we suspended the season on 23 March." Project Apollo Chair Wayne Pearce said the working group would continue lengthy consultations with experts before finalising the protocols ahead of Commission approval. "These protocols will be tough, but they need to be to ensure player, staff and community health and safety. I want to thank all of the members for their contribution in formulating the guidelines."
NRL Project Apollo - May 28 Restart Confirmed
24th April 2020
ARL Commission chairman Peter V'landys struck a deal with broadcast partners Channel Nine and Fox Sports today and confirmed the resumption of the competition to restart on May 28. "We're united on the commencement date, the target date being the 28th of May." "From there we just need a bit more information on the competition structure, so everything's going to plan. "And the meeting was very amicable and held in very good spirits and all three parties are united in aiming to get the game back and give it as big an audience as possible." Negotiations around exemptions for the Warriors to arrive in Australia before the proposed May 4 return-to-training date and train together while in quarantine, and for interstate teams to travel to NSW, remain ongoing at government level. Prime Minister Scott Morrison indicated on Friday that the Federal government would establish a set of nationwide principles to align state policies in enabling sporting codes and recreational activities to resume. "In terms of the big codes they're both working through states and territories presently," he said. "And what we'll be doing, and particularly what the medical expert panel will be doing, will be drawing their proposals together." The NRL's Memorandum of Understanding with the NSW government prevents the NRL decider being shifted outside of NSW.
NRL Project Apollo - 20 Round Competition Confirmed
28th April 2020
The NRL Telstra Premiership will recommence as a 20-round competition on May 28 with the Grand Final to be played on October 25. Australian Rugby League Commission (ARLC) Chair Peter V'landys today confirmed the details after extensive consultation with broadcast partners, clubs, and key stakeholders. The first two rounds of the competition will be counted and the current competition ladder remains in place when games resume. The competition draw will be determined in the next two weeks, including timing of State of Origin which will be conducted after the Grand Final.
Mr V'landys thanked Nine CEO Hugh Marks and Foxtel CEO Patrick Delany for backing the return of rugby league. "Today is a landmark day for rugby league in 2020," Mr V'landys said. "This is a great outcome for our players, fans, partners and stakeholders and I'm extremely appreciative for the cooperation and support from Hugh Marks and Patrick Delany. Both have always acted in good-spirit and have demonstrated how partners work together." Training will recommence for all clubs on May 4 and stringent biosecurity measures, known as Project Apollo Protocols, will be introduced for players, club officials and staff. These protocols will be more strict than the current public health guidelines and players will face sanctions if they breach the protocols. The New Zealand Warriors are expected to arrive in Australia on Sunday and it is anticipated they will serve 14-days quarantine in Tamworth. The NRL is continuing to work with federal and state governments on player travel and border permissions. Mr V'landys said it was clearly safer to play now than what it was when the competition proceeded in Round 2. "It's safer now to play then it was in Round 2 when we were playing. The daily infection rate in NSW was 25.79% when the last game was played. It has been now less than 1% in NSW for the last 18 days and is continuing to drop. There has also been a significant improvement in the recovery rate, being 75% in NSW and 83% in Australia. Our players will be safer under our protocols than they would be as regular members of the community." The NRL's working group, Project Apollo, will meet tomorrow to continue preparations to resume the season.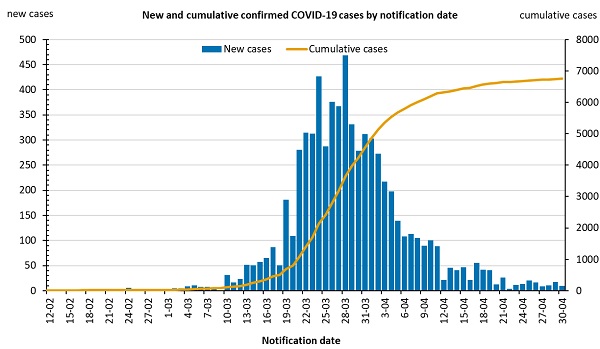 NRL Project Apollo - Queensland Government Approves Local NRL Training
1st May 2020
Australian Rugby League Commission (ARLC) Chair Peter V'landys today welcomed Queensland Premier Annastacia Palaszczuk's decision to allow rugby league to play and train in the state. The decision, announced late this afternoon, means Queensland's three NRL teams - the Brisbane Broncos, North Queensland Cowboys and Gold Coast Titans - will not be forced to relocate to NSW for the resumption of the NRL competition. "This is a critical decision for rugby league and a win for the players, clubs, fans and the wider community," Mr V'landys said. "I can't express enough our appreciation to the Queensland Government. I have great respect for the Premier and it is a tribute to her strong leadership that she has kept an open mind through this process. The Queensland government has done a great job containing the virus and we won't let them down." Mr V'landys said he had provided the Premier his assurances that the players would adhere to the game's stringent biosecurity protocols. "We are implementing the toughest of health and safety protocols for our players and staff to protect their health, and that of the community," he said. "I have stressed the importance of this with our players and staff and they understand that for the future of our game, they will be expected to adhere to higher standards than the general public. We will not let the Premier, or Queensland, down." Mr V'landys said the players will undergo an educational training session on Monday May 4 to understand the biosecurity protocols and restrictions. Players will be asked to monitor their health daily, and stay at home unless at Club training or match day. The NRL provided the Queensland Government with a 40-page biosecurity plan, which was compiled by one of Australia's leading biosecurity experts, Associate Professor David Heslop.
NRL Project Apollo - Warriors to Travel and Isolate in Tamworth
2nd May 2020
The New Zealand Warriors will arrive in Tamworth tomorrow afternoon after the National Rugby League (NRL) received final approvals for the club to fly into Australia to isolate, train and play. Australian Rugby League Commission (ARLC) Chairman Peter V'landys thanked the federal and state governments for their assistance in the matter. The Warriors will enter 14 days isolation in Tamworth, where they will be permitted to train, in the lead-up to the recommencement of the Telstra Premiership on May 28. "This is an excellent outcome for rugby league and another step towards the competition resuming on May 28," Mr V'landys said. "I want to thank the Federal and State Governments, in particular Border Force and NSW State Emergency Operation Centre for their assistance in making the Warriors arrival a reality. The club will follow the strictest biosecurity protocols and, like all clubs, will participate in an education day about the protocols on Monday morning." Mr V'landys paid tribute to the Warriors players, staff and their families for the sacrifices they had made. "As a game we cannot thank the Warriors enough for everything they are doing. Right from the start of this pandemic the club and its players have put the competition first and for that we will be forever thankful."
NRL Project Apollo - Melbourne to Travel and Train across the boarder in Albury
4th May 2020
Melbourne Storm's NRL squad will relocate to the NSW border town of Albury for their initial training camp to prepare for the resumption of the NRL season on May 28. With COVID-19 restrictions still in place in Victoria, the move will ensure the Storm players have the right facilities and environment to start training this week after a six-week layoff. Under the NRL's Project Apollo protocols, a total of 50 players and staff will be involved in the camp with that number then reduced further for game days. The Victorian Government approved Storm and the NRL to conduct a Project Apollo education and information session indoors at AAMI Park today, with appropriate social distancing and biosecurity rules in place. In Albury, the team will train privately at the Albury Thunder rugby league ground and have sole use of an accommodation venue. Melbourne Storm CEO Dave Donaghy said Storm's training base would be re-assessed at the end of the first week. "We would like to thank the Victorian Government for the consideration they gave to having our team remain in Victoria, but ultimately we understand why that is not possible at this time," he said. We also thank the NSW Government for their support of the temporary arrangements that have been put in place for Melbourne Storm in Albury." However later in day, Albury Council threw a spanner in the plans. At an extraordinary meeting on Tuesday night, the Albury City Council voted to formally prevent the team from using council facilities, which includes the Albury Thunder rugby league ground. Melbourne however confirmed that it would go ahead with its plans after securing the use of the Albury Tigers' private AFL home ground.
NRL Project Apollo - RLPA agrees to 80% pay deal for 2020

5th May 2020

The RLPA confirmed players will accept a 20 per cent pay cut and return to training tomorrow. Top tier squads from across the NRL will take to the training paddock for the first time in six weeks under strict game-wide protocols, with each club's NRL liaison officer on duty for the return of players. As broadcast negotiations continue around the revenue structure of a rescheduled season, the NRL and RLPA have agreed players will be guaranteed 80% of their wages for 2020.

ARL Commission chairman Peter V'landys described the players return to training as a "momentous landmark" in the return of elite rugby league, predicting unprecedented interest in the game. "It is full steam ahead for the resumption of the competition on May 28," V'landys said, paying tribute to the players' commitment to get the competition back under way. "All eyes will be on the NRL as the only live sport on television. There will never have been more interest in rugby league than on May 28. We said from the start we are all in this together and our players have proved that. Many of them are making significant sacrifices for the competition to re-start and that is not lost on anyone."

Teams will begin training sessions under a strict no-contact policy before a return to tackling and wrestling drills as normal from next week. Most clubs are expected to conduct gruelling fitness and conditioning tests to gauge their players' workloads during their six-week hiatus. Players will also adjust to their new normal as far as a working environment goes, with temperature testing, shoe-changing, movement tracking and social distancing all to be monitored by the NRL-appointed liaisons.

The NRL's Project Apollo committee is due to meet again on Friday to analysis the game's first week under new protocols and work on the NRL's next return-to-play target, the details of its 20-round draw. RLPA chief executive Clint Newton hailed the collaborative process between the players and NRL that has brought the game back on several fronts across remuneration, health, safety and wellbeing. "We worked through arguably the fastest and most collaborative process in the game's history to secure clarity and clear direction for the industry and our members," Newton said. "We set a new standard which should become the hallmark for our industry which will give us the best chance to build a more sustainable and solid foundation for the game's future." The RLPA said players are "working through individual circumstances of players" in regards to living and personal arrangements ahead of Wednesday's return to training duties.
NRL Project Apollo - Venues Chosen for Rounds 3 to 9
19th May 2020
The Australian Rugby League Commission (ARLC) has today approved the first phase of a venue strategy for the resumption of the Telstra Premiership which begins on May 28. Six venues - Bankwest Stadium, Campbelltown Stadium, Central Coast Stadium, Suncorp Stadium, QCB Stadium and AAMI Park - will be used during Phase 1 when the competition resumes on May 28. The venues were selected on a range of factors including those best equipped to meet the NRL's strict biosecurity protocols which have been formulated to keep players, staff and the general community healthy. Other factors included geographic location, rectangular rather than oval stadiums and commercial considerations. All matches will be consolidated into six venues with no crowds. These venues will be used for at least Rounds 3-9 before a review is conducted.
BankWest Stadium - Parramatta, Canterbury, South Sydney, Cronulla, Sydney Roosters
Campbelltown Stadium - St George-Illawarra, Wests-Tigers, Penrith, Canberra
Central Coast Stadium - Newcastle, Warriors, Manly
Suncorp Stadium - Brisbane, Gold Coast
QCB Stadium - North Queensland
AAMI Park - Melbourne

The official draw, to be released on Thursday, will allocate venues until Round 9 of the competition but will not allocate venues for matches in Round 10 and beyond. Acting Chief Executive Officer Andrew Abdo said the strategy was designed to ensure all venues provided the safest possible environment for players and staff, based on the NRL's strict biosecurity protocols. "The competition will begin with a consolidated approach to venues. Each venue requires customised infrastructure to meet our strict biosecurity requirements. We've adopted a phased approach for venues should restrictions be eased in the future," he said. "We've chosen three consolidated venues for clubs in and around Sydney to ensure there are no double headers at venues and in different parts of the region to meet the geographical challenges we face."
---
© 2020 SSR Almanac / HOME / RETURN