2021 - The Cyber View from the Hill
21st April 2021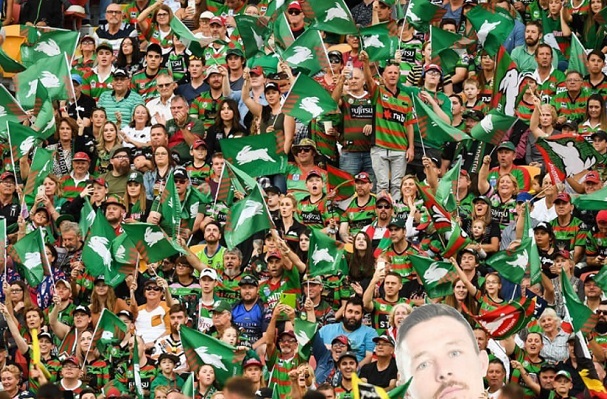 Its the Benny Hill Golden Point Show
What a crazy game. Never before has a game been decided by such bizzare circumstances in golden point. The value of South Sydney's greatest all-grade point scorer was on show once again, when our captain got us into a position to win the game with a great 2pt fieldgoal with minutes on the clock. But its what happened after 80 minutes that will live long in peoples memories. The run to score the match winning try, followed by celebration by Souths players, only to see the Brooks and the referee run 100m and score at the other end, that left everyone totally confused and Tigers players celebrating. It then went to video referee where the Souths try was correctly awarded and the referee then runs 100m back downfield and awards the game to South Sydney. The whole event was classic Benny Hill. The lesson for the boys is to play the referee whistle. We have now moved into 2nd. With 10 more wins to make the semi's. The loss of Mitchell and Mansour for 4 weeks will test our depth.
Burgess great try
As opening golden point tackle set was winding down, Tigers players rushed to block a Reynolds field goal, saw a gap open up and Tom Burgess saw this and took full advantage. He ran 30m in the open field, in a barn storming run, to be tackled as he reached out to score the match winning try. His brother George would have been proud.
Milne arrives
Over the coming weeks we will see troops start to return. Taane Milne made his first appearance for Souths in reserve grade last week after almost 400 days of not playing. While he has some work to do on defensive combinations, he showed some strong runs in attack. He will improve with more game time.
SG Ball boys bow out
It was disappointing end to our very strong U19 season. On the back of loosing our halfback, we lost our opportunity to be minor premiers on the back of shock loss to Balmain who were not in finals contention. But injuries started taking their toll, losing our entire spine, fullback, captain, five-eighth, halfback and moving our starting hooker into the halves for the vital preliminary finals game, proved too much. We will see a number of this team step up in the coming weeks into U21s. Top try and pointscorer scorer was Evan Manning with 13 tries.
Girls Improved Defence
It was a much improved defensive display by the girls this week as they took on a number of the Jillaroo girls in the Helensburgh team. The bigger forwards in Moale, Johnston and Killisimasi continue to dominate our game plan. But with no wins all year our team still has some work to do.
New North American League
A interesting development has been occuring over in North America with establishment of a North American Rugby League professional competition. This has been led by the English Super League trio of Toronto, Ottawa and New York with places like Cleveland and California supporting the league, and a number of USARL teams coming across. However everything hasnt been smooth sailing, with USARL strong holds of Florida and the East Coast not being involved. Hopefully things can be sorted out as the long term growth of Rugby League in the USA will be good for the game as it recovers in the post covid era.
Round 6 - Stat Attack
Statistically it was average game. Completion dropped to 83% from 86% last week. Errors dropped to 10 from 8 last week. We gave away 5 penalties and 2 6-again calls from 5 last week. Souths Effective 1st tackle was dropped to a average level of 34.1m from 22.5m last week. Our missed tackles dropped to a average level of 26 from 23 last week. Opposition offloads improved to 8 from 13 last week.
Looking at our left side defence - Johnston-DGagai-Walker-Host/Marshall (0-0-2-2) improved to 4 from 6 missed tackles last week. On the right side Mansour/Graham-Graham/Marshall-Reynolds-SuA (3-3-3-4) dropped to 13 from 5 missed tackles last week. Ruck defence Tatola/Nicholls-DCook-Burgess/Arrow-Murray/Knight (3-3-1-3) was steady at 10 missed tackles again this week.
Our go forward dropped to 1774m from 2050m last week. Su'A, Nicholls, Mitchell, Dane Gagai, Johnston and Marshall made 10+m per run. Burgess, Murray, Tatola, Su'A, Mitchell, Dane Gagai, Mansour, Graham and Johnston making 100+m in the match. With Burgess making 200m+ for the game once again. Defensively Damien Cook was our best in the tackling raking up 52 tackles. Tatola, Arrow, Dane Gagai, Johnston and Mitchell didn't miss a tackle.
Rabbitohs Radio - Weekly Segment
Boys chat to Davvy MOale & Jarrod Wade, remember Burgess Try and preview the Gold Coast game.