2021 - The Cyber View from the Hill
28th April 2021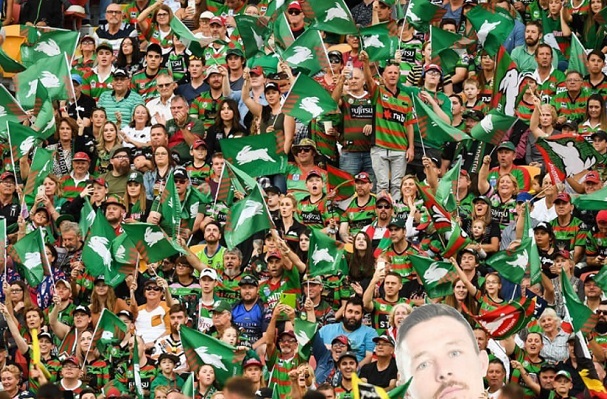 Strong Second Half Comeback
It was a classic game of two halves. In the first half Souths struggled to contain the Gold Coast forwards in the last 10 minutes of the half as the score blew out and we went in 14 points down. But then we came out and played one of our best halves of football to get back into the game and then take control. We starved the opposition of the ball, which took their forwards out of the game and set the platform for some spectaular tries. We slipped back to 3rd on differential. With 9 more wins to make the semi's. Now for a cold trip to Canberra who are out of form.
Marshall Magic
With Mitchell out, there was a backline reshuffle with Walker moving to fullback and Marshall to five-eighth. His combination with Koloamatangi and Johnston were all class setting up line breaks and then backing up the ball runner to score two tries himself. It continues to be a master stroke to bring him into squad. Especially when we have a lower grade spine injury or suspension crisis with Taaffe, Hawkins, Ilias, Mamouzelos, Mitchell, Tautaiolefua, Robinson and Mundine all out or injured on the weekend.
Kapapani gets his chance
With U19 season over, we are now seeing players staring to step up to U21s. The first two to step this week were Davvy Moale and Josiah Karapani. Karapani is a centre who has been very impressive and his ability to make a line break resulted in him make huge yardage in his debut game. Looking forward to see how he progresses.
Kilisimasi powers on
One of the players to have made a big impression since coming into the team has been Seneti Kilisimasi. She is a big young forward who hits the line hard and carries players with her. She is becoming a vital player in the team and is rewarded for her efforts with a starting spot this week.
NRL 2 Conference Proposal
At the NRL club conference this week talk of expansion and a two confernce system was discussed. There is a lot of desire to bring in the 17th team in Brisbane and talk soon moves to what structure will the competition have. The two conference model based around Sydney versus Regional continues to pop up where there would be initially 9 Sydney team pool and 8 team Regional pool, expanding to 9 when the 18th team is added. This will allow for any future expansion of the pools to 10 or 12 teams. But the one common factor that fans didn't like was a potential Conference finals system with the winner playing off in a Super Bowl, rather than having the two best teams playing in the Grand Final. This is one area that will need to be looked into.
Round 7 - Stat Attack
Statistically it was good game on the back of a strong second half. Completion improved to 92% from 83% last week. Our best all year. Errors dropped to 4 from 10 last week. Our best all year. We gave away 5 penalties and 3 6-again calls from 7 last week. Souths Effective 1st tackle was improved to a good level of 26.6m from 34.1m last week. Our missed tackles dropped to a disatrous level of 46 from 26 last week. Opposition offloads dropped to 12 from 8 last week.
Looking at our left side defence - Johnston-DGagai-Marshall-Koloamatangi (1-5-1-2) dropped to 9 from 4 missed tackles last week. On the right side Paulo-Graham-Reynolds-SuA/Host (4-2-7-2) dropped to 15 from 13 missed tackles last week. Ruck defence Tatola/Arrow/Knight-DCook-Burgess/Nicholls-Murray (6-3-7-1) was dropped to 17 from 10 missed tackles again last week.
Our go forward dropped to 1676m from 1774m last week. Knight, Johnston and Marshall made 10+m per run. Koloamtangi, Burgess, Murray, Knight, Cook, Arrow, Nicholls, Johnston, Paulo, Graham Dane Gagai and Marshall making 100+m in the match. With Burgess making 200m+ for the game once again. Defensively Murray was our best in the tackling raking up 45 tackles. Only Host didn't miss a tackle.
Rabbitohs Radio - Weekly Segment
Boys chat to fan Damo Batty, remember Jack Rayner and preview the Raiders game.