2021 - The Cyber View from the Hill
2nd June 2021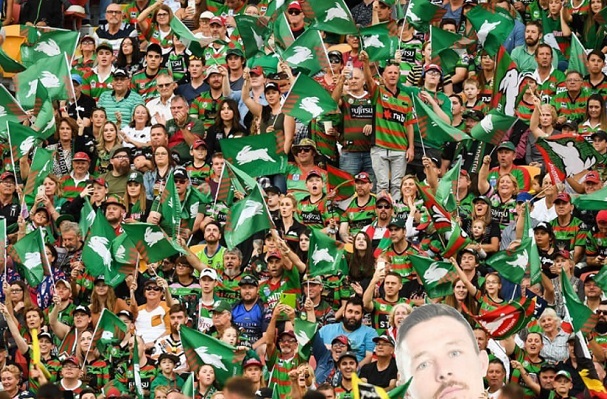 Souths Bounce Back
The return of Murray helped set Souths back on the right track. Souths left side edge was dominate once again. It was the third game in a row that Souths scored 38 points against Parramatta, where the forwards helped set the plaform before the backs took control. We are equal 3rd and need 6 more wins to make the semi's. Now for a rest during Origin I.
Johnston and Gagai Hatrick
What a great day on the left side. Alex Johnston scored a hattrick to take his tally to 12 for the season taking his tally to 118 tries, in clear 3rd place on the all time try scorers list. And not be undone Dane Gagai also scored 3 tries. They are a leathal combination on left outside of Walker and Mitchell.
Fahey runaway match winner
It was even in the U21s game, Souths blocked two field goal attempts, when Parramatta chipped Fahey caught the ball 10m out and then stepped and was in the clear and ran 90m to score and win the game. He is the nephew of the Terry Fahey with lightning speed and step.
Congratulations to our Girl reps
Congratulations to Akira Kelly, Tazmyne Luchwidtz and Rikka Lamb who were selecetd in the First Nation Gems squad, under Rabbitohs coach Dean Widders. They made the final only to lose in golden point
Origin should move to Tuesday
With the advent of Thursday night football which replaced Monday night football, Origin should return to Tuesday nights. This means we can play representative weekends, and players will be fresher for the following weekend games. Its is crazy to try and backup one day after Origin.
Round 12 - Stat Attack
Statistically it was a good game. Completion improved to 76% from 78% last week. Errors dropped to 10 from 6 last week. We gave away 3 penalties and 3 6-again calls from 17 last week. Souths Effective 1st tackle improved to a good level of 28.5m from 45.7m last week. Our missed tackles improved to a good level of 24 from 38 last week. Opposition offloads dropped to 13 from 10 last week.
Looking at our left side defence - Johnston-DGagai-Walker-Arrow/Host (0-1-4-1) improved to 6 from 8 missed tackles last week. On the right side Milne-Graham/Marshall-Reynolds-Koloamatangi (2-4-1-1) improved to 8 from 11 missed tackles last week. Ruck defence Nicholls/Burgess-DCook-Tatola/Arrow-Murray/Sele/Marshall (2-1-2-1) improved to 6 from 16 missed tackles last week.
Our go forward improved to 1698m from 1190m last week. Tatola, Koloamatangi, Sele, Nicholls, Johnston, Dane Gagai made 10+m per run. Tatola, Koloamatangi, Burgess, Sele, Host, Johnston and Dane Gagai made 100+m in the match. With Johnston making 200+m for the match. Defensively Damien Cook was our best in the tackling raking up 52 tackles. Koloamatangi, Arrow, Murray, Nicholls and Johnston didn't miss a tackle.
Rabbitohs TV - Weekly Segment
Boys chat to Lachlan Ilias, remember Roy Bell and preview Origin.