2021 - The Cyber View from the Hill
7th July 2021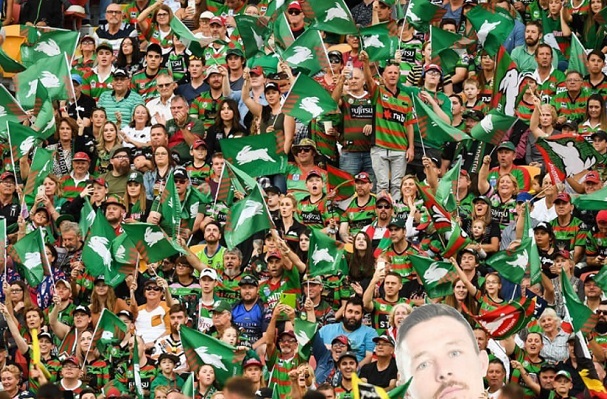 Tale of two halves
It was game of two halves. In the first half Souths dominated the game, putting on 5 answered tries and bombing two others. This was our 4th half that we have keep teams scoreless. The team then went into 3rd gear for the second half, and the momentum turned. The good defence of the previous weeks was suddenly undone as we let in easy points, but were never threatened. We have now moved to outright 3rd and need 3 more wins to make the semi's. It is now a 5 day turnaround with Origin stars as we play the Cowboys behind closed doors again.
Reynolds Breaks Record
Congratulations to Adam Reynolds who pass ed teh great Eric Simms as the greatest place kick goal scorer in First Grade premiership matches. Simms scored at a average of 8.9 points a game, while Adam scores at around 8.1 points a game. Adam's accuracy with ball is second to none, kicking goal at a average of 82.5% over his first grade career. Its a great achievement and he is now only 61 points behind Simms on the all time pointscoring list for the club.
Graham 4 tries in two weeks
As Souths focus on developing their right edge attack, Campbell Graham has been a benefiticary scoring 4 tries out wide with his strong line running. It has helped to balance our attack as we continue our preperations for the business end of the season.
Davvy Moale call up
A interesing and welcome selection this week on the extended bench is Davvy Moale. He is a yound 18 year old prop who played SG Ball this year, represented the City U18s with strong performances in the U21s. He now finds himself on the cusp of first grade and player of the future.
RLWC2021 Under Threat
The worldwide Covid pandemic continues to wreck havoc on international sport, due to the volume of travel restrictions in place. We have a Rugby League world divided where players cannot travel between Europe and the Pacific without undergoing quarantine procedures. We already saw the Oceania games between New Zealand, Tonga, Samoa, Fiji and PNG called off. With minor international between Malta and Lebanon also cancelled. As such there is a real danger that the end of season Rugby League World Cup in England could be impacted, with so many players needing to travel from Australia.
Round 16 - Stat Attack
Statistically it was a average game. Completion improved to 82% from 69% last week. Errors improved to 9 from 14 last week. We gave away 3 penalties and 3 6-again calls from 4 last week. Souths Effective 1st tackle dropped to a average level of 25.8m from 23.7m last week. Our missed tackles improved to a good level of 24 from 30 last week. Opposition offloads improved to 12 from 14 last week.
Looking at our left side defence - Johnston-Gagai-Walker-Arrow/Host (0-0-4-4) dropped to 8 from 6 missed tackles last week. On the right side Milne-Graham-Reynolds-Koloamatangi (1-2-1-0) improved to 4 from 11 missed tackles last week. Ruck defence Nicholls/Burgess-Cook/Marshall-Sele/Knight/Arrow-Murray/Marshall (1-5-3-1) improved to 10 from 13 missed tackles last week.
Our go forward dropped to 1777m from 2412m last week. Our best all season. Burgess, Koloamatangi, Arrow, Johnston, Milne and Mitchell made 10+m per run. Burgess, Knight, Sele, Nicholls, Koloamtangi, Arrow, Johnston, Milne and Graham made 100+m in the match. Defensively Cook was our best in the tackling raking up 39 tackles. Koloamatangi, Burgess, Gagai and Johnston didn't miss a tackle.
Rabbitohs Radio - Weekly Segment
Boys chat to David Cruickshank, remember Greg Mackey and preview the Cowboys game.