2021 - The Cyber View from the Hill
25th August 2021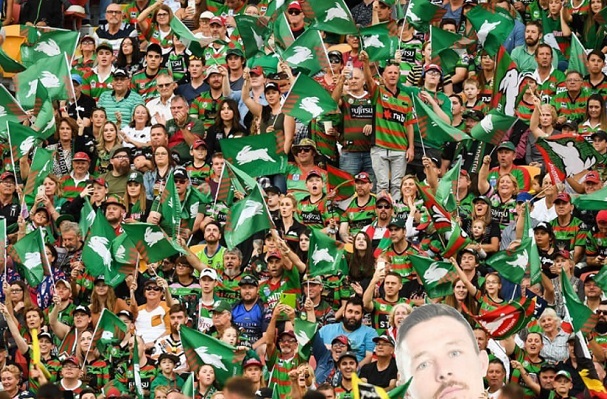 10 winning streak ends
After 10 weeks our winning ways came to a end on back of some bizarre refereeing. It was the first time in maybe 10 years we saw the "downtown" penalty awarded, just at a critical moment that gave the Panthers the lead. And the only one awarded when on the weekend there were many other occassions when it could have been awarded. While we got the early lead and stayed in the game for 60 minutes our forwards were slowly worn down, and this remains the difference between us and the Top 2 teams. But it was a good tough match and reminded us that we still need to improve, with disipline and mental toughness areas to improve on. 3rd is now were we will land, and now for the 113 year local rivalry with the Roosters on foreign soil.
Reynolds greatest 40-20
Adam Reynolds continues to have a great season, breaking almost every Rabbitoh point scoring record. But it is his kicking game that continues to be important for this team. The 40-20 he kicked on the weekend was the greatest ever seen in the short history of the rule. The pin point accuracy of how it was executed, centimeters over players hands and centimeters inside the slideline. This sort of kick should always be rewarded. Looking forward to some more magic moments this year.
Cook and Murray tackling machines
While the team struggled to go forward our defence was extremely strong in this game. Murray has become one of the greatest defenders in the game today and along with Damien Cook clean up around the ruck in their tackles This week they both excelled making over 50 tackles each.
Grand Final move to Brisbane
Covid in Sydney continues to spiral out of control with over a 1,000 cases daily, leaving no alterative but to relocate the GRand Final away from Sydney. Originally planned for the SCG this year, Covid Alpha strain stopped the re-development of Stadium Australia, but with the Delta strain now firmly entrenched in Sydney no venues can be used. So the decision has been made to reloacte the Grand FInal to Suncorp Stadium in Brisbane as the Queensland government starts to re-open up. It will be a very different event this year with the possibility of no Queensland team in the finals.
Round 23 - Stat Attack
Statistically it was a poor game. Completion dropped to 74% from 79% last week. Errors were steady at 11 again this week. We gave away 11 penalties and no 6-again calls from 12 last week. Souths Effective 1st tackle dropped but still in a very poor level of 41.8m from 23.3m last week. Our missed tackles dropped to a poor level of 32 from 25 last week. Opposition offloads dropped to 6 from 4 last week.
Looking at our left side defence - Johnston-Gagai-Walker-Arrow/Host (1-1-1-7) dropped to 10 from 6 missed tackles last week. On the right side Mansour/Graham-Graham/Marshall-Reynolds-Koloamatangi (1-6-5-0) improved to 12 from 15 missed tackles last week. Ruck defence Nicholls/Burgess-DCook-Tatola/Arrow/Sele-Murray (1-2-3-2) dropped to 8 from 4 missed tackles last week.
Our go forward dropped to 1409m from 1945m last week. Host made 10+m per run. Burgess, Gagai, Mansour, Graham and Johnston made 100+m in the match. Defensively Damien Cook was our best in the tackling raking up 58 tackles. With Damien Cook and Murray making 50+ tackles. Nicholls, Tatola, Koloamatangi and Mitchell didn't miss a tackle.
Rabbitohs Radio - Weekly Segment
Boys chat to Ben Lovett, remember Paul Mellor and preview the Roosters game.