2021 - The Cyber View from the Hill
1st September 2021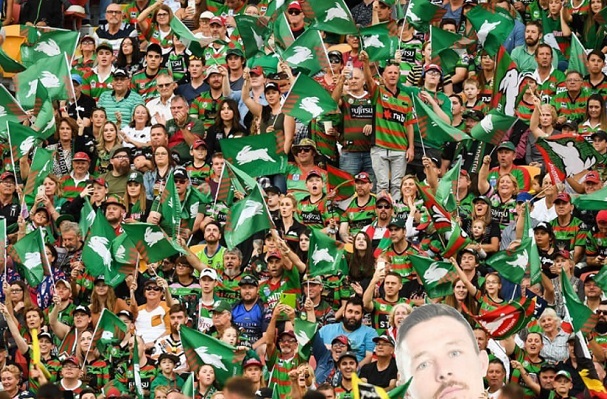 54 point Brutal Clash
It was brutal it was spitful and had everything you come to expect in the latest chapter i the "Battle of the Books". It was a game of semi-final intensity with a tough battle early, before we pulled away midway through the first half. But with Reynolds leaving the field, extending his knee, after the Lang Park Stadium surface gave way, the team lost its way for a period. But when Adam returned the team settled and ran away with the game in the last 20 minutes, scoring 30 unanswered points. 3rd is now set in stone, so this weekend Souths will give 8 players a rest while remaining squad members who are in camp on the Gold Coast get a run, in readiness for the finals.
Mitchell Season Ends on Sour Note
Latrell Mitchell, season ended in a disappointing manner on the back of a cover defence tackle gone wrong. He will miss the finals series, the pre-season and a few rounds of 2022. The incident triggered scenes on the field as players tried to take matters into the own hand. Then from the opposition bench. But where there is disappointment there is opportunity, as Blake Taaffe his chance to fill in big shoes as Souths head into the finals.
Nicholls Double
There was a bet made by a mate that if Nicholls ever scored a double he would get a tattoo with his name. Well that day finally arrived, and Mark Nicholls had one of his best game of his career running for 245m and scoring two tries. His efforts were the rewarded with being named captain this weekend.
Trial By Media
We continue to see the media target certain clubs and players. With the influence certain clubs have in some media outlets, we saw it in full swing this week. Where a coach fueled the fire, soon to be followed by his CEO. With the incident showed over 150 times as the media went abot doing a trial by media. Then the attacks moved from the incident to a vengful attack on the person. This hs been going on ever since he left the club in question. What we find interesting is how similar incidents against the same player when he played for that club or other players was never a issue or down played. What is disappointing is how the NRL referees, MRC and judicary react to the trial by media, almost as if their jobs are on the line.
Round 24 - Stat Attack
Statistically it was a good game. Completion improved to 84% from 74% last week. Errors improved to 8 from at 11 last week. We gave away 2 penalties and no 4-again calls from 17 last week. Souths Effective 1st tackle improved to a very good level of 22.1m from 41.8m last week. Our missed tackles improved to a very good level of 19 from 32 last week. Opposition offloads dropped to 8 from 6 last week.
Looking at our left side defence - Johnston-Gagai-Walker-Arrow/Host (0-2-2-2) improved to 6 from 10 missed tackles last week. On the right side Paulo-Graham-Reynolds/Marshall-SuA (0-2-1-1) improved to 4 from 12 missed tackles last week. Ruck defence Nicholls/Arrow-DCook-Tatola/Burgess-Murray/Knight (1-2-3-3) dropped to 9 from 8 missed tackles last week.
Our go forward improved to 2074m from 1409m last week. Nicholls, Burgess, Mitchell and Johnston made 10+m per run. Nicholls, Burgess, Arrow, Su'A, Tatola, Murray, Mitchell, Johnston, Gagai and Paulo made 100+m in the match. With Nicholls and Burgess making 200+m in the match. Defensively Damien Cook was our best in the tackling raking up 35 tackles. Arrow, Reynolds, Johnston, Paulo and Mitchell didn't miss a tackle.
Rabbitohs Radio - Weekly Segment
Boys chat recap the Roosters game, remember Shane Walker and preview the Dragons game.