2021 - The Cyber View from the Hill
6th October 2021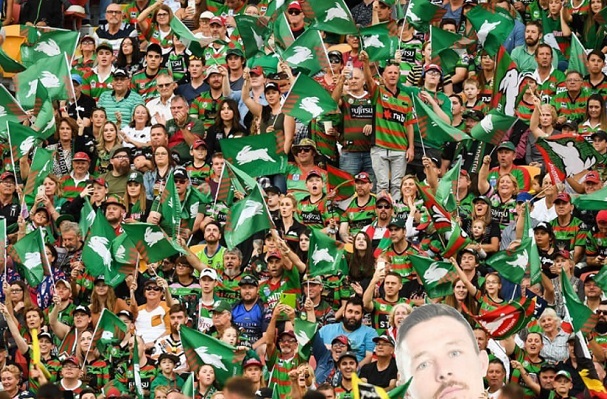 So Close Yet So Far
We are so proud of the team in 2021, so close, only 2 points, yet so far. It has been our second best season in 50 years as we fell agonisingly close in the final hurdle. Our forwards struggled against the bigger Penrith pack. One pleasing aspect of the game was when we got a chance we scored. But the intercept will go down in grand final folklore. The defence was first class. But errors, no matter how few, prove costly in big games. With the departure of Reynolds, Gagai and Su'A the team will look very different next year. Now for a well earned rest.
Johnston Breaks Record
It was the last try of the season and gave South Sydney a chance to steal the game as Alex Johnston scored his 30th try for the season, eclypsing Les Brennan's 67 year record to become South Sydney's great season try scorer. It was only the 3rd time that a player had scored 30 tries in a season in 114 years. He finishes the season with 136 tries just 10 short of Nathan Merritt's South Sydney career record.
Farewell Reynolds
The grand final also signalled the end of a great South Sydney career for Adam Reynolds. The modern era follows Adam Reynolds with his debut season in 2012 being the year we returned to the Top 4, making the Top 4 or better 7 times in 10 years. He finished the season with 260 points, with 5 tries 118 goals, a club record and 2 two point fieldgoals. Just 5 points shy of Simms 265 points ina season record. A foot on the dead ball line and groin injury robbed him of the chance. We will miss our little general and he goes down as the greatest ever point scorer in the clubs history with 1896 first grade premiership points.
So many Queensland Rabbitoh Fans
The game was about to kickoff and Suncorp Stadium, and we have never seen scene as these with so many Queensland Rabbitoh fans turning up in their masses for the game. We outdrew Penrith in the order of 5 to 1. We owned Suncorp Stadium and it helped lift the boys to stay in the game when everything was being thrown at them. With so many Sydney fans not being able to attend it was great to see we have fans spread far and wide.
Grand Final - Stat Attack
Statistically it was a poor game. Completion dropped to 74% from 77% last week. Errors were steady at 11 once again this week. We gave away 1 penalty and 4 6-again calls from 5 last week. Souths Effective 1st tackle dropped to a very poor level of 40.0m from 24.6m last week. Our missed tackles improved to a very good level of 23 from 34 last week. Opposition offloads dropped to 6 from 5 last week.
Looking at our left side defence - Johnston-Gagai/Marshall-Walker-Koloamatangi/Host (0-4-1-5) improved to 10 from 11 missed tackles last week. On the right side Paulo-Graham-Reynolds-SuA (2-1-1-2) improved to 6 from 12 missed tackles this week. Ruck defence Nicholls/Burgess-DCook-Tatola/Arrow/Koloamatangi-Murray (2-2-3-0) improved to 7 from 8 missed tackles last week.
Our go forward dropped to 1509m from 1897m last week. Walker made 10+m per run. Burgess, Tatola, Paulo, Gagai, Taaffe, Johnston and Reynolds made 100+m in the match. Defensively Murray was our best in the tackling raking up 53 tackles. Murray, Burgess, Johnston and Taaffe didn't miss a tackle.